B.Com.F.M.
Placement
B.M.S.
B.M.M.
Alumni Meet 2018-19
On account of completion of 50 years of Mahatma Education Society's & 20 Years of Pillai College of Arts, Commerce & Science has initiated 50 Golden Saturdays Celebration as a part of which Department of B.Com Financial Markets has organised Alumni Meet on 23rd March, 2019.
Mr. Akshay Kumbhar getting felicitated by Prof. Jennie Prajith
Mr. Ankit Pingale getting felicitated by Prof. Jennie Prajith
B.Com. in Financial Markets students after a successful session with Alumni
On this occasion B.Com. in Financial Markets alumni Mr. Akshay Kumbhar (Batch 2012-13), who works in HDFC Bank, Mumbai as a Deputy Manager of Custodian Services and Mr. Ankit Pingale (Batch 2013-14), who works in Morning Star Ltd. Company in Vashi as a Research Analyst, were invited to orient F.Y. & S.Y.B.Com. Financial Markets students on Scope & Opportunities available in the stream of Financial Markets and were also the judge for Quiz competition organized by the department.
Career Talk : Research & Placement Program
On 23rd March, 2019, PCACS's Placement Department celebrated a day, which is part of Golden Saturdays with Alumni on account of 50 years of M.E.S. in 2020. PCACS and Placement Cell hosted an event named, 'Career Talk : Research & Placement Program'. This event was conducted in the auditorium for F.Y. & S.Y. students of all streams from commerce and science departments.
Event: PCACS and Placement Department celebrating Golden Saturday on 23rd March, 2019 with our Alumni
PCACS Placement Head – Mrs. Padmaja Ganti
PCACS Alumni – (From left) Mr. Samson, Mr. Ruben and Mr. Anuwind
We invited our Alumni as the chief guests and resource speakers for this event.
Names are as follows:
1) Name: Mr. Ravindra Vilas Malpute
Designation: Cloud Cunstaltant Engineer
Company Name: Capgemini
awarded as Inovation engineer in automation in Zensar
2) Name: Mr. Akshay Desai
Designation: Program control service
Company Name: Accenture
Formally working with lionbridge as associate project manager
Other alumni and our guests for this event were Mr. Ruben Mathew, Mr. Samson J., Mr. Sai Prashant, Mr. Niral, Mr. Anuvind and Mr. Vishal.
The objective of the event was to orient the F.Y. and S.Y. students about the placement / internship training and guidance. The topics covered in this event were soft skills, awareness and preparedness for career / job and communication skills. The event was very beneficial to prepare students to step in the corporate world and soar high in their respective fields. PCACS Placement Department is aptly set up, not only to get right job, but also to guide each of its student to get into the right career.
50 Golden Saturday Celebration
B.M.S. Department conducts a Session on 'How to manage better client relations?'
B.M.S. Department commenced the Golden Saturday's Celebration on 23rd February, 2019 with a practical session for second year and third year marketing elective students. The session was on 'How To Manage Client Relation And How To Get Clients?' It was conducted by Mr. Arjith Wadhva, Founder and Proprietor, AR Graphics. He is alumni of B.M.S. department 2013-14 batch.
B.M.S. Alumni Arjith Wadhva, Founder and Proprietor, AR Graphics delivers a successful Session on 'How To Manage Client Relation and How To Get Clients?'
Arjith Wadhva, Founder and Proprietor, AR Graphics getting felicitated by Deepika Sharma, PCACS Vice-Principal
In the session Mr. Wadhva discussed about 6 golden rules of client relations:
Client time is your money
UNDER Promise and OVER Delivery
Don't Burn Bridges With Pettiness
Set Mutual Goals
Build Credibility Over Time
Be Transparent and Human
Students had practical session on 'How To Sell Your Product?' and 'How To Value Your Customer?' The session ended with a thanking note by Mr. Febin George.
Golden Saturday Session by Alumni Gayatri Menon
The Department of Bachelor of Mass Media organized its first Golden Saturday with PCACS alumni and HT Cafe Journalist Gayathri Menon.
On 16th February 2019, the students of TYBMM were bestowed upon with a session related to the job opportunities based on Print Journalism. The session was conducted by PCACS Alumni Gayathri Menon, who shared her journey as an aspiring editor, juggling through various different magazine productions, until she found the perfect job for herself at HT Cafe. She spoke about the decisions she took, and the few regrets she gathered along the way. Her journey greatly inspired the students, who themselves are on the verge of creating their own unique stories.
PCACS Alumni and HT Cafe journalist Gayathri Menon conducted a session for B.M.M. student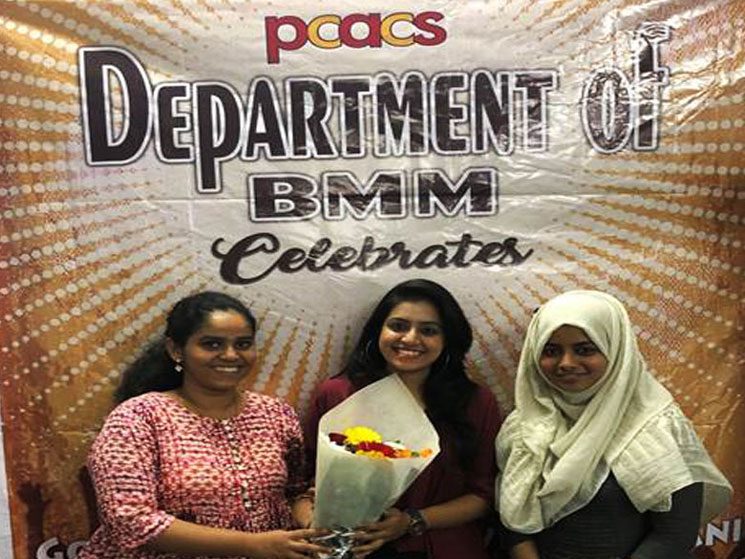 Gayathri Menon felicitated by the lecturers of B.M.M. department