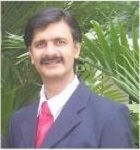 Mr. Pradeep Chandrasekaran, Founder & Director Finmark
Department of Business Management Studies (B.M.S.) Pillai College of Arts, Commerce & Science (Autonomous) in association with Finmark Trainers organized a National Level Webinar on "Managing Your Finances and Investments in Covid Times" on 6th July, 2020. This webinar benefited 38 faculty members to understand how to manage personal finances and prepare to face COVID 19 financial difficulties
Faculty members learned to proactively manage funds and also learned to appreciate risk and its correction with rewards. The session was conducted by Pradeep Chandrasekaran Founder & Director Finmark. Pradeep has been involved in the Capital Markets since I991 and has rich experience in Equity Research and Portfolio Management. He was a columnist for the Business line and Economic Times newspapers. He is a pioneer in the area of Financial Market Literacy and since 2004 he has authored three books on the financial markets and is a Founder Director of Finmark Trainers, a leading financial market education Company. He is an Accredited with the NSE, BSE, NISM and the Chartered institute of Securities and Investments, London as a Trainer
PCACS B.M.S. department organized an International Seminar on "Innovation in Management and Social Science" on 24th February, 2020 at 11 a.m., in association with CISI. The idea behind this seminar was to guide the participants to have innovative ideas and techniques developed.
Prof. Deepika Sharma Vice Principal of PCACS delivered an introductory speech to welcoming the Guest of Honour and key speaker of International Seminar Prof. Subba Rao. The introduction of the seminar was given by Principal, Dr. C.A. Gajanan P. Wader, after which the guest lighted the lamp. Dr. Aarti Sukheja IQAC coordinator gave a brief information about the quality standards required to generate innovative practices in colleges.
The Guest of Honour was Prof. Subba Rao is an Ex-Vice-Chancellor, Pro Vice–Chancellor, Professor and Dean, Faculty of Commerce and Management in India and other countries for more than 40 years. He published 103 Research papers in National and International Journals, 25 Research and textbooks in Commerce and HR Management.
Prof. Subba Rao enlightened the participants on how innovation is different from invention and various ideas to adopt innovative practices. "Change before the change changes you" was the tagline with which Prof. Subba Rao concluded the seminar by saying, "There is a need of followers to recognize the significance of leaders". Also that we need to keep ourselves informative about the changes and development taking place around us. The seminar was highly informative and interactive. The Seminar ended on a happy note with all the participants having a clear idea about Innovative ideas, Social Science needed in a Management sector and also how to generate business ideas to start a Start–up of their own.
B.M.S. department organized a seminar on 'Management skill Development Programme' on 16th August, 2019 at 11 a.m., in association with 'Barclay's Bank' and 'Ace Pro factor US'. The idea behind having such a seminar was to guide the 300 BMS students who attended the seminar regarding managerial & corporate skills.
The department coordinator Mrs. Nithya Varghese delivered an introductory speech by welcoming the speaker and Hon'ble guests. Madam explained the purpose behind the seminar, while the guests were lighting the diyas.
The speaker for the seminar was Squadron leader Neha Malhotra, who is a seasoned ex IAF Officer with over 10 years of services in dept. of HR & 3 years of experience as National level corporate trainer. She is specialist in corporate soft skill development, campus to corporate programs, corporate leadership & recruitment programs.
The Guest of Honor was Jeffin Ani Johns & Jasmine Nannavan. The former is a certified international trainer & award winning entrepreneur with a clientele of over 120 clients in 4 continents & winner of over prestigious awards from Economic times, Brainfeed magazine.etc. He is CEO & Cofounder of Brainkeeda & CEO for JTE group; who have been nominated last year to represent India in European startup festival in Italy. The latter, Ms.Jasmine, a dual PG, helps at Ace Pro Factor.
The speaker, Ms.Neha, first explained the importance of management skills in today's corporate world. She then informed students about the VUCA world & how to survive in it. She then further went on explaining about strategic thinking & decision-making by conducting an activity. She also shared her personal experiences from IAF to explain it well. She continued by explaining about working in groups & the barriers to it along with its solutions.
"Different people perceive things differently; so communication should be clear & concise", was concluded by Ms. Neha from an activity she gave the students. She spoke briefly about the 7 C's of effective communication & the different ways of communication. She told, "46% of our communication is based on our body language. Rest all is secondary." She concluded the seminar by sharing few leadership skills. The seminar was highly informative and interactive.
After that, Mr. Jeffin took over the stage and spoke about Barclay's Bank. He also announced that all the students will be getting a participation certificate.
The seminar ended on a happy note; with students having knowledge of management, leadership & communication skills. Overall it was a wonderful experience. More than 600 B.M.S. students benefited out of this program.
The FINANZA Association of B.Com. (Accounting and Finance) of Pillai College of Arts, Commerce and Science conducted One Day Intra Collegiate Festival Finacle 2019 on Thursday 1st August, 2019. The Committee was enthusiastic and happy for getting more than 70 participants from the college itself from various streams like B.Com.A&F, B.Com., B.M.M. and B.M.S. The participation of students of first year of all these classes was overwhelming. The inauguration was done by the head of the Department of B.Com. (Accounting and Finance) Dr. Abida Khan under the guidance of Prof. Sunita Saini and Prof. Chaitanya Athalye. The participants learned finance in a fun way through games such as Tally Ho-Jaa, Think Reverse, and Guess the price. The students also actively participated in Fun Games such as Fastest Mouth First, Whisper Music Challenge, Emoticon Dum Charades, Word Search and 4-Event Game wherein they learned co-ordination and Co-operation with enjoyment and fun. The winner of each game was given on the spot cash-prize and the winners of all the games and participants of Finance Games were facilitated with certificates as well.
The feedbacks of the participants were appreciating and they enjoyed the event and showed their interest to participate in the event next year as well. The event ended around 3:00 pm with Vote of Thanks by Prof. Sunita Saini.
Department of B.M.S. celebrated the department's 2nd 50 Golden Saturday on 15th June, 2019. Jeffin Ani Johns CEO and co founder of BrandKeeda and group CEO for JTE Group of Companies was invited for a session on "Being Entrepreneur".
Jeffin Ani John holds double masters from ICFAI and he is Certified lean 6 sigma green belt professional, Government of india certified in digital marketing, entrepreneurship mentoring, worked with over 120 clients from India, US and middle eastern countries, Holds multiple awards and recognitions such as top 3 in young leaders of tomorrow by economic times for consecutive 2 years, iMSME top young leaders in India, India 5000 awards and top 30 under 30 young edupreneurs in India by Brainfeed Magazine, Nominated last year to represent India in European startup festival conducted in Turin, Italy, Alumni of 2012 B.M.S. batch of PCACS.
B.M.S. Department commenced the Golden Saturday's Celebration on 23rd February, 2019 with a practical session for second year and third year marketing elective students. The session was on 'How To Manage Client Relation And How To Get Clients?' It was conducted by Mr. Arjith Wadhva, Founder and Proprietor, AR Graphics. He is alumni of B.M.S. department 2013-14 batch.
B.M.S. Alumni Arjith Wadhva, Founder and Proprietor, AR Graphics delivers a successful Session on 'How To Manage Client Relation and How To Get Clients?'
Arjith Wadhva, Founder and Proprietor, AR Graphics getting felicitated by Deepika Sharma, PCACS Vice-Principal
In the session Mr. Wadhva discussed about 6 golden rules of client relations:
Client time is your money
UNDER Promise and OVER Delivery
Don't Burn Bridges With Pettiness
Set Mutual Goals
Build Credibility Over Time
Be Transparent and Human
Students had practical session on 'How To Sell Your Product?' and 'How To Value Your Customer?' The session ended with a thanking note by Mr. Febin George.
The Department of B.M.S. and B.Sc. I.T. & B.Sc. C.S. of Pillai College of Arts, Commerce & Science, New Panvel organized a One Day International Conference titled "Role of Engaging Digitalization in Socio-Economic Growth and Nation Building" on 15th December, 2018. The sponsors for the event were CISI (Chartered Institute for Securities and Investments) and Finmark Financials. The session was attended by 30 participants from all over India as well as abroad.
Best Paper Presenter getting felicitated by the Guest of Honour
PCACS Faculty members with the Guest of Honour
The Conference was inaugurated by:
Dr. Meghavi Banerjee
Professor, Head Strategic Alliances
Head & Partner at Lincoln University of Business & Management, UAE
Dr. Hiren Dand
Coordinator, Department of Information Technology at Mulund College of Commerce
Dr. Anjum Ara Ahmed
Associate Professor, Department of Mathematics
The conference provided a platform to disseminate business intelligence where in leading academicians and researchers interacted and shared their valuable experiences, ideas, innovations and research for changing and dynamic issues in different subjects.
The conference was very informative and thought-provoking. It gave insight on digitalization in Socio-Economic Growth and Nation Building. The conference concluded with Valedictory followed by lunch.