The department organized a "Technical Fest : BITFEST" on 2nd September, 2015. The fest had various events like digital poster making, coding competition etc.
Highlights of the event are :
A special computer laboratory with LAN was set up by the students of B.Sc. (I.T.) and B.Sc. (C.S.) for e-gaming.
e-treasure hunt: This event was, treasure hunt with a Technical Twist. The clues for the game were bar-coded by students.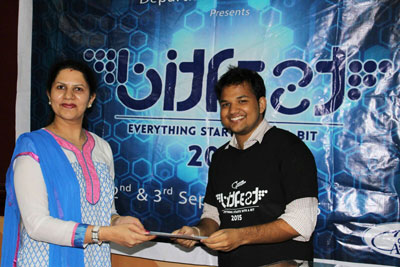 The department organized a Job Fest, in association with SEED IMS, Vashi on 22nd August, 2015.
The aim of this fest was to give another placement opportunity to students of 2013-14 and 2014-15 batch. It was open to other colleges students too. Very good response was given by students from all over Navi Mumbai. The following companies participated :
3i Infotech, Capgemini, Eclinical works, Thyrocare Technologies, ACS Computers
Ms. Pooja Pandey, faculty member of the Department of I.T. and C.S., bagged Ist prize at Zonal Level of State Level Inter – University "Avishkar Research Convention Competition", December 2015.
She was felicitated by the University of Mumbai on 15th June, 2016. Felicitation ceremony was adorned by the Vice Chancellor of University of Mumbai, Dr. Sanjay Deshmukh; Dr. M.A. Khan – Registrar, University of Mumbai; Dr. Anil Patil – Director of BCUD. (Board of College and University Development).