Economics Association organized a 'Free Eye Check-up for Students & Staff' in association with 'Advanced Eye Hospital and Institute'. It was organized on 29th January, 2019 in the Old Canteen area. Total 140 students and 21 staff members were benefited from the eye check-up camp. Highly qualified doctors used best quality equipments to conduct the eye check-up. The camp was volunteered by student members of Economic Association.
On the same day, a 'Poster Making Competition' on the theme 'Eye Donation' was organized by the members of Economic Association. The motto of conducting it was to create awareness about eye donation. The handmade posters were displayed in the Old Canteen Area of the campus.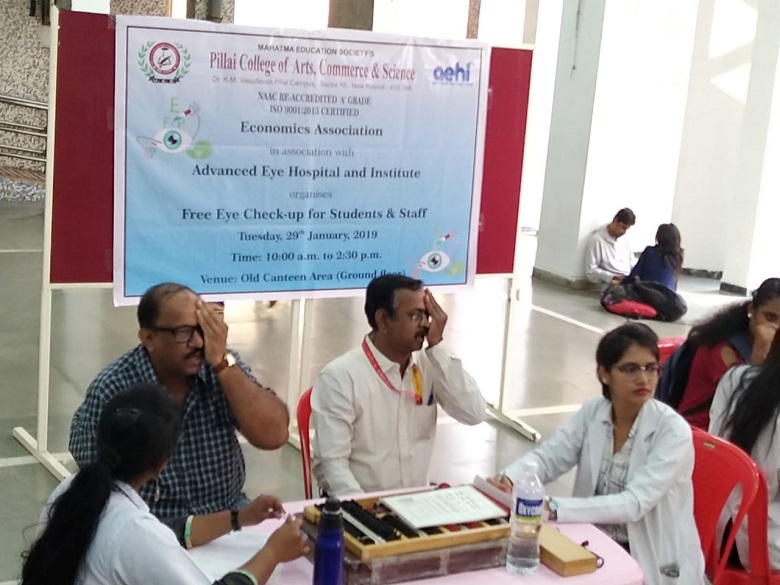 PCACS Staff getting the eye-check up done
Organizing members of Economic Association
Economics Association conducted a Debate Competition for the B.Com. students on 24th August, 2018 in the college Conclave. The topic for the debate was 'Plastic: Boon or Bane'. Total 25 students participated in the said competition. The event was judged by Ms. Gurpreet Kaur and Ms. Heena Khanche. The students were well prepared for the purpose and charmed the audience with their performance. All the participants were given one minute to present their respective points, following to which students participated in an open debate challenge where the participants brainstormed on the said theme. It was an interactive session, where every student put across his point. The prize winners were applauded for their performance. The Debate Competition helped the participating students in honing their communication skills and confidence.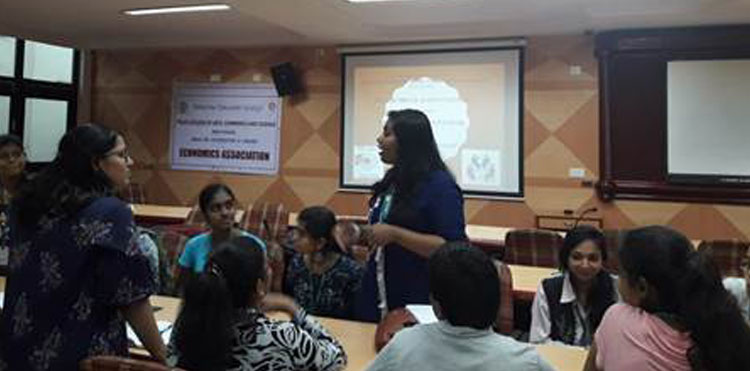 Students participating in the Debate Competition
Judges with the participant students of the Debate Competition
Program Schedule (.pdf version)
Department of Business Economics in association with Board of Studies in Business Economics, University of Mumbai organised One Day Workshop on 'Syllabus Revision of T.Y.B.Com. (Semester V & VI) – Business Economics' on 30th June, 2018. The members of Board of Studies graced the occasion. The resource persons were Prin. Dr. Gopal K. Kalkoti, Dr. Naresh Madhavi, Dr. Yasmeen Aowte, Prof. Jayasree Venkitachalam. Prin. Dr. V. S. Adigal, Dr. Suchitra Kumar, Prof. Shivaji Pawar and Prof. Manish Gogari were also present. The workshop received an overwhelming response by partcipants from Navi Mumbai, Raigad, Ratnagiri and Sindhudurg colleges. 44 teachers participated in the workshop.