The placement cell had conducted a campus drive for M.Sc. Biotechnology Part II course on 12th January, 2017. Lilac Insights is India's leading provider of evidence based genetic services with a special focus in the area of Maternal and Fetal Health, Newborn Health and Oncology.
Following students from M.Sc. Biotechnology part II have been selected by Lilac Insights Pvt. Ltd. in the campus interview:
Ms. Neha Kousar Khan
Ms. Kshitija Ghosalkar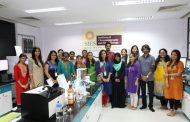 A hands on training on 'Chromatography Techniques' was organised for M.Sc. Biotechnology students at the Institute of Chromatography and Spectroscopy (ICSI), SIES College, Nerul from 7th to 12th September, 2016 during the Ganpati festival vacation.
The objective of the training was to help students develop the industrial expertise in the field of chromatography which will provide them better career prospects. The training was organised by Prof. Gopakumar Pillai, M.Sc Coordinator, Biotechnology Department. The training was of five days and a total of seventeen students from M.Sc. I and II participated in the training program. Dr. G. Ramakrishnan, Director, ICSI and President of Chromatography Society of India (CSI) inaugurated the program and gave his valuable speech in the first session which was also attended by Prof. Gopakumar Pillai. Dr. Ramakrishnan made the students aware about the importance and applications of chromatography in the field of biosciences. He alongwith his staffs ensured that the students were provided attention and all facilities through out the training period. Hands on training were provided to students on HPLC, GC, Mass spectrophotometry, UV & IR spectroscopy. A test was also conducted towards the end of the training to assess the students. The training concluded with a feed back session and distribution of certificates which was attended by Prof. Gopakumar Pillai. Overall the training was found to be very informative and it gave the students, the necessary skills to help them make a career in Industry and Research. Similar programs are being planned to be organised for the overall development of the students.
The Biotechnology Placement Cell conducted a career guidance lecture on 16th August, 2016 for B.Sc. and M.Sc. Biotechnology students in 7th Floor Auditorium. Mr. Abhilash Das, an Alumnus of the college who is working as a Senior Production Executive in Reliance Life Sciences was the resource person. Prof. Padmaja Ghanti, Head of PCACS Placement Cell & Prof. Gopakumar Pillai, Biotech Placement in charge welcomed and introduced the guest.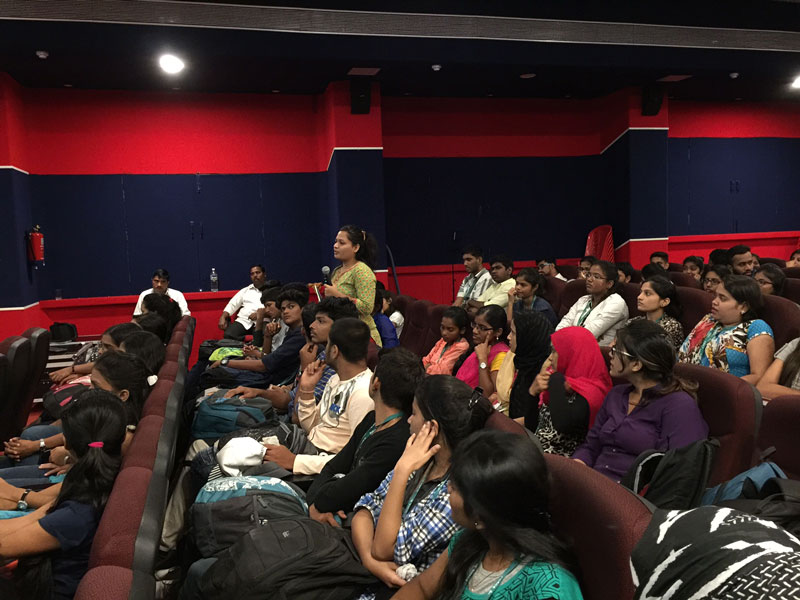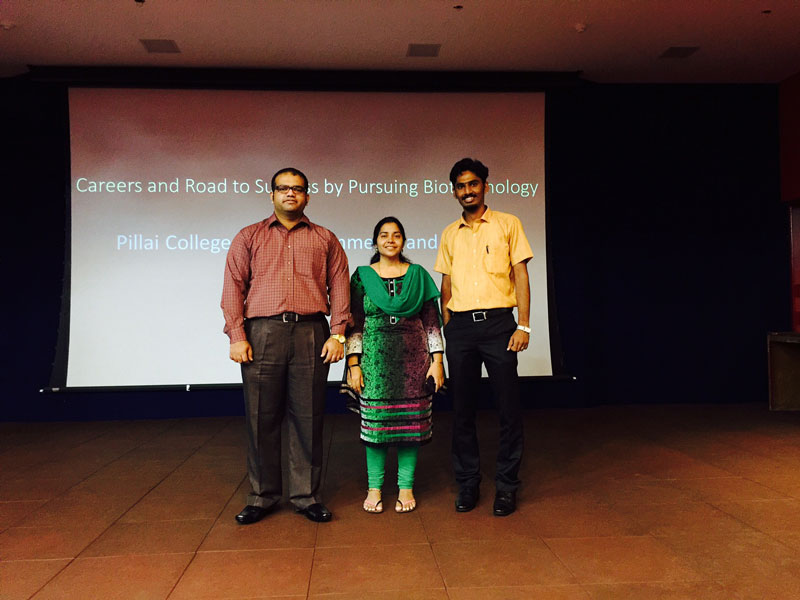 Mr. Abhilash Das explained the students about ways to develop industry relevant skills and knowledge and motivated them to explore different avenues in the field of Biotechnology. He shared his experience in the area of Research and Production and also discussed about job prospects in Reliance Life Sciences and other companies he has worked earlier. He enlightened and guided the students in various career aspects where the students can aspire and initiate their career. The presentation and interaction of the speaker was very effective, wherein he showed many related visuals. The students interacted enthusiastically and the resource person answered their queries and cleared their doubts.
The session came to an end with a vote of thanks by Prof. Gopakumar Pillai and the student representative, Ms. Reema Shrivastava. Overall, the lecture was very informative and encouraging and was well perceived by the students.
Prof. Gopakumar Pillai
Biotech Placement In charge
Ms. Kshitija Ghoslakar, student of M.Sc. Biotechnology Part I won Second Prize in Vernacular Speech and First Prize in Rangoli held during Bonhomie 2016 – Intercollegiate event at Anjuman-i-islam's Kalsekar Technical Campus on 1st and 3rd February, 2016.
Ms. Kshitija Ghosalkar, student of M.Sc. Biotechnology Part I presented a Research paper on 'DNA Barcoding: A tool for identification and authentication of Tinosporacordifolia' in the Interdisciplinary National Conference on Green Technology and Sustainable Development: Indigenous Practices organized by Amity University, Mumbai on 26th and 27th February, 2016.
The Department of Biotechnology and Biotechnology Association of Pillai College of Arts, Commerce and Science (PCACS), New Panvel, organized a State Level Seminar on "Nanobiotechnology and Nutraceuticals in Health and Disease Management" on 19th January, 2016 (Tuesday).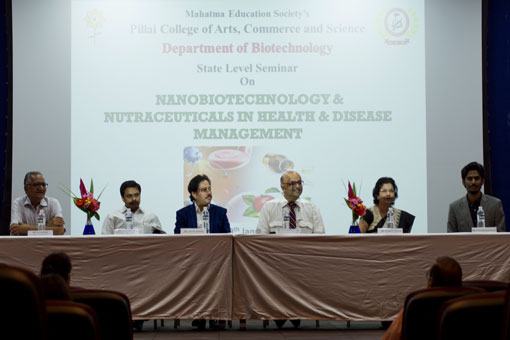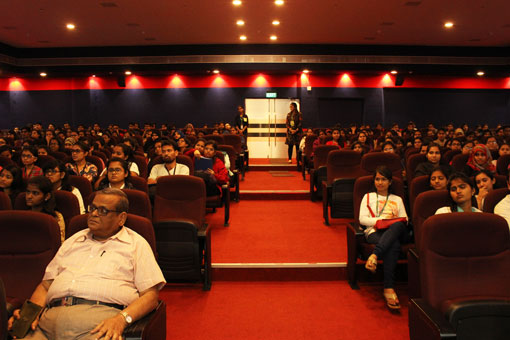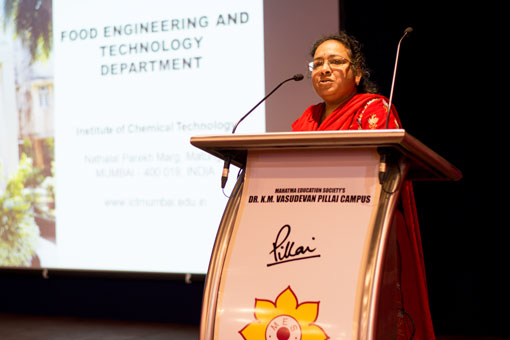 Three hundred participants comprising students & faculty members from different colleges including PCACS participated in the seminar.
The distinguished guests formally inaugurated the event at 10.30 a.m. by lighting the lamp. Dr. Daphne Pillai, Principal, PCACS welcomed the gathering. Opening remarks were given by Prof. Gopakumar Pillai, Convener of the Seminar. Chief Guest, Dr. Jayesh Bellare, Professor – Chemical Engineering, School of Biosciences & Bioengineering, IIT, Powai delivered the keynote address "Amazing Nanotechnology and its applications in health care and more…" In his converse, he explained the importance of Nanotechnology and its applications in health care. His lecture was very interesting, informative and motivating. The technical session on Nanobiotechnology started at 11.45 a.m. by Dr. Absar Ahmad, Senior Principal Scientist, NCL, Pune. He delivered the lecture on "Green synthesis of inorganic nanomaterials and their various applications". He described the synthesis of various nanomaterials which has applications in healthcare. The second speaker of the session Dr. P. A. Hassan, Scientific Officer H & Head, Thermal & Interfacial Chemistry Section, Chemistry Division, BARC, gave the lecture on "Interfacial engineering of nanomaterials for drug delivery". In his talk, he discussed microstructure and drug delivery aspects of various materials created via self-assembly in designing stimuli sensitive drug delivery systems. The technical session on Nutraceuticals began at 2.15 p.m. following lunch. The session commenced with the lecture of Dr. Rekha Singhal, Professor – Department of Food Engineering & Technology, Dean – Research, Consultancy and Resource Mobilization, ICT, Mumbai. She gave a lecture on "Nutraceuticals for joint health". The lecture covered the basic reasons and types of disorders associated with joints, the conventional treatments and their limitations, and the nutraceuticals that have been investigated along with their relevant clinical studies reported across the world. The second speaker for session on Nutraceuticals was Dr. Mukesh Nandave, Associate Professor of Pharmacology Department form NMIMS, Mumbai. His lecture was on "Nutraceuticals in Health and Disease with Special Emphasis on their Roles in Cardiovascular Diseases". He discussed the differences and similarities in pharmaceuticals and nutraceuticals, their market place as well as roles in treatment and management of CVD.
The Valedictory session was held at 4 pm where, Dr. P. S. Goyal, Dean – R & D, PIIT gave the concluding remarks emphasizing on the potential of Nanobiotechnology and Nutraceuticals in developing an effective healthcare. The seminar ended with distribution of certificates by Dr. Rekha Singhal, Dr. Daphne Pillai & Dr. P. S. Goyal followed by Vote of thanks by the Convener, Prof. Gopakumar Pillai.
The students and faculty members were very interactive throughout the lectures. The seminar received a good feedback form the audience. Overall the seminar was very encouraging and was well appreciated by the guests, students and faculty members.
Consortia – An Intercollegiate Biotechnology Fest on 16th January, 2016. view Brochure