Virtual National Seminar on "Impact of Online Teaching-Learning on Quality of Higher Education in India" to be organized by Pillai College of Arts, Commerce & Science, Teaching – Learning Centre in Collaboration with Guru Angad Dev Teaching-Learning Centre of MHRD (PMMMNMTT) – SGBT Khalsa College, Delhi University on 21st October, 2020.
Pillai College of Arts Commerce & Science, New Panvel won Runners–up title at Mumbai University Soft Ball Championship held at CKT College, New Panvel. In their Semi Finals they beat a formidable Praksh College, Kandivali and storm in to the final. In the finals they challenged a four time defending champion Rizvi College and lost by a margin of just 2 runs. Subham Gupta and Rushal More played excellently well for Pillai team.
Jubilant Pillai boys after the tournament with their mentors
THINK, INNOVATE & INSPIRE….
Whether you are an independent inventor, a fledgling entrepreneur or a scientist having an innovative idea, the best thing you can do is to become familiar with the concepts and procedure associated with protecting your inventions.
Here, is an opportunity to learn how to patent your invention and to know more about the exclusive commercial rights it gives once granted.
Mahatma Education Society's Pillai College of Arts, Commerce and Science invites you to the Webinar on "IPR and Indian Patenting Landscape" on 10th September, 2020 organized by The Intellectual Property Rights (IPR) Cell.
Registration is FREE. Kindly refer to the brochure 👆for registration link.
E- Certificate will be issued to all the participants.
Link for the Online platform will be provided on the registered mail id.
Webinar Timing: 4.00 p.m. to 6.00 p.m.
Institution's Innovative Council presents One Day Seminar on "Earn While You Learn" on 4th September, 2020.
Timing:🕓 4:00 onwards
The session would be conducted by:
⚪Faisal Hawa is a Private Equity Investor who has invested 30 years of his life in establishing H. G. Hawa, as a pan – India Linerboard Distribution company. Over the years, he has developed profitable investments in private and secondary equity.
He is also the Co-Inventor of the revolutionary Water Saving Wudu Tap💧, which saves over 70% water during consumption.
⚡All participants will be provided with an e-certificate. ⚡
📌Dont miss out! Get yourself registered at: https://forms.gle/arUzZ559bBx7iUER6 or by scanning the QR code on the poster.
For futher details and queries,
📱Contact:
Nikhil Nawale: +91 99674 58304
Insha Mulla: +91 75066 53212
Or write to us at:📥 pcacsiic@mes.ac.in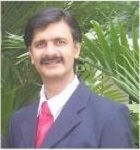 Mr. Pradeep Chandrasekaran, Founder & Director Finmark
Department of Business Management Studies (B.M.S.) Pillai College of Arts, Commerce & Science (Autonomous) in association with Finmark Trainers organized a National Level Webinar on "Managing Your Finances and Investments in Covid Times" on 6th July, 2020. This webinar benefited 38 faculty members to understand how to manage personal finances and prepare to face COVID 19 financial difficulties
Faculty members learned to proactively manage funds and also learned to appreciate risk and its correction with rewards. The session was conducted by Pradeep Chandrasekaran Founder & Director Finmark. Pradeep has been involved in the Capital Markets since I991 and has rich experience in Equity Research and Portfolio Management. He was a columnist for the Business line and Economic Times newspapers. He is a pioneer in the area of Financial Market Literacy and since 2004 he has authored three books on the financial markets and is a Founder Director of Finmark Trainers, a leading financial market education Company. He is an Accredited with the NSE, BSE, NISM and the Chartered institute of Securities and Investments, London as a Trainer
Department of B.Com. Financial Markets organizes One Day National Webinar on "How to Write and Publish Quality Research Papers in Scopus & High Impact Journals" on Saturday 6th June, 2020.
An International Level Webinar on "Insights on Covid-19: Immunopathology and Diagnosis" was organized by the Department of Biotechnology on Thursday 28th May, 2020 on Zoom online platform in association with BIAP. The Webinar began with the inauguration speech by Mrs. Suparna Deepak, program co-ordinator. She said that the Corona pandemic has unveiled the true importance of the Biotechnologists and now is the time for all Biotechnologists to rise and shine, live up to the expectations of common people, and help in making the world a better place to live again together.
The webinar was an attempt to give a snapshot of what has been achieved in such a short time and to discuss the two strategies to combat Covid 19 pandemic including developing diagnostic test and tools and defining the immunopathological changes in patients with COVID-19 which could provide potential targets for drug discovery and is important for clinical management
The welcome address was delivered by Dr. Gajanan Wader, Principal of Pillai college of Arts, Commerce & Science. He welcomed the two speakers for the webinar and gave an introduction about the college and the department.
The first speaker was Dr. Usha Padmanabhan, Senior scientist and HOD Biochemistry, Haffkine Institute of Training, Research and Testing, Parel. She spoke about the symptoms and transmission of Covid 19. She gave an overview of different types of diagnostic tests carried out for COVID 19 and their exact procedures. She shared her first-hand experiences with us regarding the difficulties faced by the healthcare workers.
Dr. Ankit Saxena, Scientist, NHLBI, National Institutes of Health, Bethesda, Maryland, US was the second speaker for the webinar. He gave the overview how our immune system responds towards the coronavirus. He spoke about the importance of herd immunity and ways to achieve it.
Mrs. Deepika Sharma, Vice-Principal, Pillai college of Arts, Commerce & Science to proposed the vote of thanks. She was immensely satisfied by both the lectures as it gave a scientific view of the disease and the strategies imposed by the Government to combat it. She concluded the webinar by thanking the speakers, management, audience and the organizers.
The webinar received excellent feedback from the attendees from various colleges from various states in India and also from abroad. There were 204 participants including students and academicians. At the end, E-certificates were provided to all the participants
Department of B.Com. and B.Com. Accounting and Finance in association with Mumbai University College Teachers Association (MUCTA) organized Three Days International Faculty Development Programme on "Digital Teaching and Learning Environment" on 11th, 12th and 13th May, 2020.
Ms. Bhavya Ahuja Grover Faculty from Ramanujan College, University of Delhi was the resource person for all three days of the session. Mr. Harshal Kulkarni from the United Kingdom Guest of the session addressed the participants on the importance of FDP in the current era. The basic idea was to equip the teachers with hand on training on getting started with LMS, Structuring course e content, flipped classroom, screencastify hands on training were covered during the session. The main aim was to assist the teachers in smooth conduct of online classroom. Online FDP session was streamed online on youtube channel of MUCTA.
1482 participants from different colleges registered for this online FDP from national as well as international domain (Australia, United Kingdom) 5.8 thousand people viewed the live streaming. The presenters were provided with the E-certificates followed by quiz and feedback for all three days. Online FDP had very good responses from all the participants through comments on you tube live chat.
National Level Webinar on "IPR, Copyright and Plagiarism" was organized by Learning Resource Centre in association with Library Advisory Committee on 27th April, 2020 using ZOOM Platform.
The webinar aimed to aimed to create awareness about the intellectual property rights and consequences of Academic Misconduct and Plagiarism among the participants. In addition to it, the webinar highlighted on how to manage references and bibliographies while conducting research activity. About 95 members participated in the webinar.
Dr. Sanjay B. Munavalli, Organizing Secretary of the event while introducing the webinar said that IPR, Copyright and Plagiarism are important areas of discussion in this COVID-19 pandemic situation and all universities, colleges must need to be addressed. If the higher education institutions does not take steps to address the gravity of this situation it risks damaging its reputation. It is crucial for a higher education institution to establish a culture in which academic integrity is at the forefront of its mission.
The session was conducted by Shri. Prahlad Jadhav, Senior Manager at Khiatan & Co. Mumbai and presented in detail about the intellectual property rights copyright, trademark, patent and highlighted that academic dishonesty and fair use of information for education purpose. He also shared his views on 'Promotion of Academic Integrity and Prevention of Plagiarism' and highlighted the University Grants Commission (UGC) (Promotion of Academic Integrity and Prevention of Plagiarism in Higher Education Regulations, 2018).
During Valedictory Session, report of the webinar was presented by Organizing Secretary, Dr. Sanjay B. Munavalli which was followed by online feedback from the participants and distribution of e-certificates to the participants
On 22nd April, 2020, PCACS Placement Cell organized a Webinar in collaboration with Ed-tech Master class on Students Engagement during online classes was successfully conducted with participation of different stake holders.
The webinar addressed student centric effective teaching-learning pedagogy among the participants. This course was aimed for teachers who are teaching various disciplines of science and engineering subjects in colleges or Universities. There were 125 participants registered for this program from different Universities and Colleges of Mumbai and 75 number of participants successfully completed the program.
The key points regarding the session are as below:
Workshop Title : Ed-tech Master class on Student Engagement during online classes
Organised by PCACS in association with Enable Employability Excellence
Conducted on 22nd April from 11 am to 12.30 pm, through Google Meet
Key Topics Covered :
Principles of Communication
Ed Tech Tools : Google Classroom, Jam board
Activities to engage the students
Faculty : Mr Sunny Agrawal
Number of Participants : 75
Average Feedback Rating : 4.65 ( out of 5 )
Digital Certificates were issued to all participants