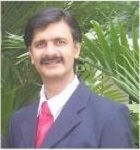 Mr. Pradeep Chandrasekaran, Founder & Director Finmark
Department of Business Management Studies (BMS) Pillai College of Arts, Commerce & Science (Autonomous) in association with Finmark Trainers organized a National Level webinar on "MANAGING YOUR FINANCES AND INVESTMENTS IN COVID TIMES" on 6th July, 2020. This webinar benefited 38 faculty members to understand how to manage personal finances and prepare to face COVID 19 financial difficulties
Faculty members learned to proactively manage funds and also learned to appreciate risk and its correction with rewards. The session was conducted by Pradeep Chandrasekaran Founder & Director Finmark. Pradeep has been involved in the Capital Markets since I991 and has rich experience in Equity Research and Portfolio Management. He was a columnist for the Business line and Economic Times newspapers. He is a pioneer in the area of Financial Market Literacy and since 2004 he has authored three books on the financial markets and is a Founder Director of Finmark Trainers, a leading financial market education Company. He is an Accredited with the NSE, BSE, NISM and the Chartered institute of Securities and Investments, London as a Trainer
Department of B.Com. Financial Markets organizes One Day National Webinar on "How to Write and Publish Quality Research Papers in Scopus & High Impact Journals" on Saturday 6th June, 2020.
Department of B.Com. and B.Com. Accounting and Finance in association with Mumbai University College Teachers Association (MUCTA) organized Three Days International Faculty Development Programme on "Digital Teaching and Learning Environment" on 11th, 12th and 13th May, 2020.
Ms. Bhavya Ahuja Grover Faculty from Ramanujan College, University of Delhi was the resource person for all three days of the session. Mr. Harshal Kulkarni from the United Kingdom Guest of the session addressed the participants on the importance of FDP in the current era. The basic idea was to equip the teachers with hand on training on getting started with LMS, Structuring course e content, flipped classroom, screencastify hands on training were covered during the session. The main aim was to assist the teachers in smooth conduct of online classroom. Online FDP session was streamed online on youtube channel of MUCTA.
1482 participants from different colleges registered for this online FDP from national as well as international domain (Australia, United Kingdom) 5.8 thousand people viewed the live streaming. The presenters were provided with the E-certificates followed by quiz and feedback for all three days. Online FDP had very good responses from all the participants through comments on you tube live chat.
National Level Webinar on "IPR, Copyright and Plagiarism" was organized by Learning Resource Centre in association with Library Advisory Committee on 27th April, 2020 using ZOOM Platform.
The webinar aimed to aimed to create awareness about the intellectual property rights and consequences of Academic Misconduct and Plagiarism among the participants. In addition to it, the webinar highlighted on how to manage references and bibliographies while conducting research activity. About 95 members participated in the webinar.
Dr. Sanjay B. Munavalli, Organizing Secretary of the event while introducing the webinar said that IPR, Copyright and Plagiarism are important areas of discussion in this COVID-19 pandemic situation and all universities, colleges must need to be addressed. If the higher education institutions does not take steps to address the gravity of this situation it risks damaging its reputation. It is crucial for a higher education institution to establish a culture in which academic integrity is at the forefront of its mission.
The session was conducted by Shri. Prahlad Jadhav, Senior Manager at Khiatan & Co. Mumbai and presented in detail about the intellectual property rights copyright, trademark, patent and highlighted that academic dishonesty and fair use of information for education purpose. He also shared his views on 'Promotion of Academic Integrity and Prevention of Plagiarism' and highlighted the University Grants Commission (UGC) (Promotion of Academic Integrity and Prevention of Plagiarism in Higher Education Regulations, 2018).
During Valedictory Session, report of the webinar was presented by Organizing Secretary, Dr. Sanjay B. Munavalli which was followed by online feedback from the participants and distribution of e-certificates to the participants
Incubation Cell organized a One day Seminar on the topic Intellectual Property Rights on 25th February, 2020. Dr. Vijay Kumar Shivpuje, a reputed member of the National IPR Council, conducted the session.
Dr. Vijay started the seminar by talking about what IPR actually is and explain its importance in the real economy. The seminar was very interactive and informative. Students were highly intrigued with the way Dr Vijay taught the various aspects of the rights to protect their brain child. He also spoke about how startups could benefit the most out of IPR and how it could boost a business.
The different types of Intellectual Property Rights like Copyrights, Geographic Indications, Industrial Design, etc. He used real life examples to make the understanding of the subject at hand better. He also cited his own experiences to help explain the working of IPRs too. The basics of filing IPR, why it is essential, etc were also discussed.
Another topic that was highlighted was Patents and Patent Rights. The importance of patents was discussed along with the procedure of filing, its requirements and benefits.
The seminar concluded with an interactive Questions session where all the students asked their questions and doubts regarding IPR. Dr Vijay made sure everyone went back with a proper knowledge of IPR. The seminar was informative and benefited 135 students.
PCACS B.M.S. department organized an International Seminar on "Innovation in Management and Social Science" on 24th February, 2020 at 11 a.m., in association with CISI. The idea behind this seminar was to guide the participants to have innovative ideas and techniques developed.
Prof. Deepika Sharma Vice Principal of PCACS delivered an introductory speech to welcoming the Guest of Honour and key speaker of International Seminar Prof. Subba Rao. The introduction of the seminar was given by Principal, Dr. C.A. Gajanan P. Wader, after which the guest lighted the lamp. Dr. Aarti Sukheja IQAC coordinator gave a brief information about the quality standards required to generate innovative practices in colleges.
The Guest of Honour was Prof. Subba Rao is an Ex-Vice-Chancellor, Pro Vice–Chancellor, Professor and Dean, Faculty of Commerce and Management in India and other countries for more than 40 years. He published 103 Research papers in National and International Journals, 25 Research and textbooks in Commerce and HR Management.
Prof. Subba Rao enlightened the participants on how innovation is different from invention and various ideas to adopt innovative practices. "Change before the change changes you" was the tagline with which Prof. Subba Rao concluded the seminar by saying, "There is a need of followers to recognize the significance of leaders". Also that we need to keep ourselves informative about the changes and development taking place around us. The seminar was highly informative and interactive. The Seminar ended on a happy note with all the participants having a clear idea about Innovative ideas, Social Science needed in a Management sector and also how to generate business ideas to start a Start–up of their own.
On 18th February 2020, B.Com. Department in association with, Student Welfare Department, University of Mumbai organized an International Conference on the topic "Innovative practices in Commerce, Management and Technology". The basic idea was to share the innovation thoughts and give a platform to the researchers, academicians and students. Dr. Mridul Nile from University of Mumbai, Member of Senate, was the speaker of the Session. Mr Taher Dawoodwala was the Guest as industry expert from International domain. There were 17 paper presentations from academicians of different colleges and students also presented the research papers. There were 33 participants who were present and showed keen interest in the conference, which made the conference a new learning platform and exploring the innovative practices in the field of commerce, management and technology. The topics taken up by the presenters included Green Banking, Investment Pattern of youth in Navi Mumbai, Corporate Social Responsibility, Effects of Social Media, Recent Trends in E-Commerce and other such interesting papers on the given subject. The session ended with a positive note of taking back the knowledge and strong confidence among the students to take up preparation of more research. The presenters were provided with the Journal containing their research paper and the certificate of participation and presentation. Also, the participants were provided the certificate of participation.
B.COM Coordinator, Principal of PCACS and Guests during the launch of journal
B.COM Coordinator along with the organizers, participants and guest
On 23rd November, 2019, B.Com. Department organized a session on 'Golden Saturday'. It was conducted for the B.Com. students of PCACS in L-302 at 11:30 a.m. by Mr. Inder U. Sharma, B.Com alumni from the batch 2008. He is a Founder and Sr. Advisor of Awaaz Service Society.
The session included guidance on blood donation. He shared his wonderful experiences of college life and gave information about his NGO. He also talked about his activities towards women and children well-being. He gave an insight of various events that he has conducted in Navi Mumbai. Mr. Sharma had a very interactive approach throughout the session, which was liked the by the B.Com. students of PCACS.
On 5th October, 2019, PCACS's Placement Department celebrated a day, which is part of Golden Saturdays with Alumni on account of 50 years of M.E.S. in 2020. PCACS and Placement Cell hosted an event named, 'Gap between College and Industry / Company and Employability'. This event was conducted in the auditorium for F.Y. & S.Y. students of all streams from commerce and science departments.