Pillai College of Arts Commerce and Science, New Panvel in association with Finmark India Ltd. with National Stock Exchange conducted a Fundamentals of Capital Market Course (FCM) and Securities Operations and Risk Management (SORM). This program would help them develop skills of Financial Literacy and it also enhance their job opportunities to develop themselves.
74 Students enrolled for the course.The Workshop Commenced on 6th August, 2018 and continued till 10th August, 2018 completing 46 hours of program from 9 a.m. to 5 p.m. evening. The Exam for the same was conducted on 16th August, 2018 (6 hours for two Exams and Training). The Passing Students will be certified by National Stock Exchange, Finmark and Pillai.
Skill Development Council of Pillai College of Arts Science and Commerce had organised a Seminar for Organ Donation on 9th January, 2018. Professionals from Terana Medical College, Nerul was invited to deliver lecture on importance of organ donation and procedure to do organ donation. 400 students were educated regarding importance of organ donation.
This is to inform all the students that Skill Development Council is conducting two days Certified Program on Securities Operation and Risk Management (SORM) on 11th to 12th October, 2017. Course Fees is Rs. 1500/-. Interested students can pay fees at fee counter (Ground Floor) and register their name on or before 5th October, 2017.
For more details students can contact:
Prof. Aditya Joshi
Prof. Sunita Saini
Prof. Priyanka Patil
Prof. Dhanya Vinish
Successfully completed Three Days Workshop on "Fundamentals of Capital Markets" from 26th to 28th July, 2017. The Skill Development Council in collaboration with National Stock Exchange and finmark had organised this workshop for 92 students from various streams.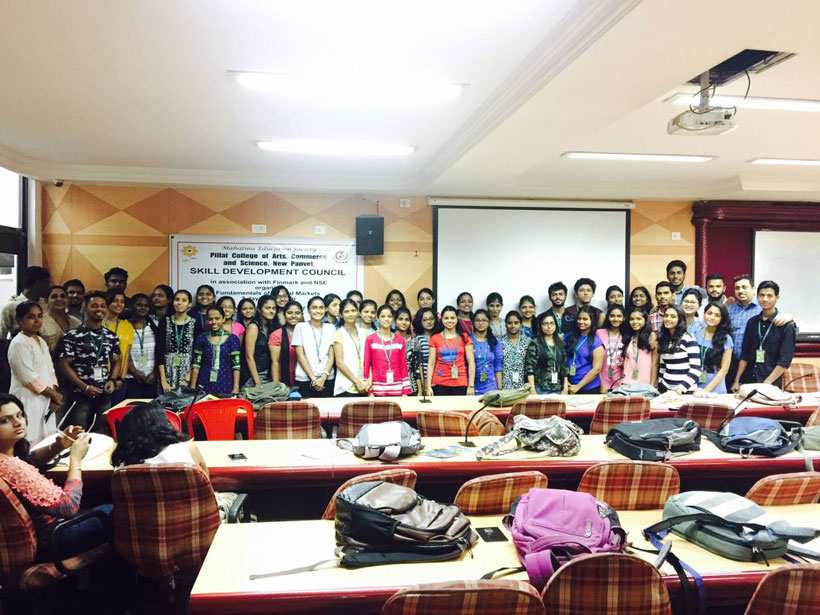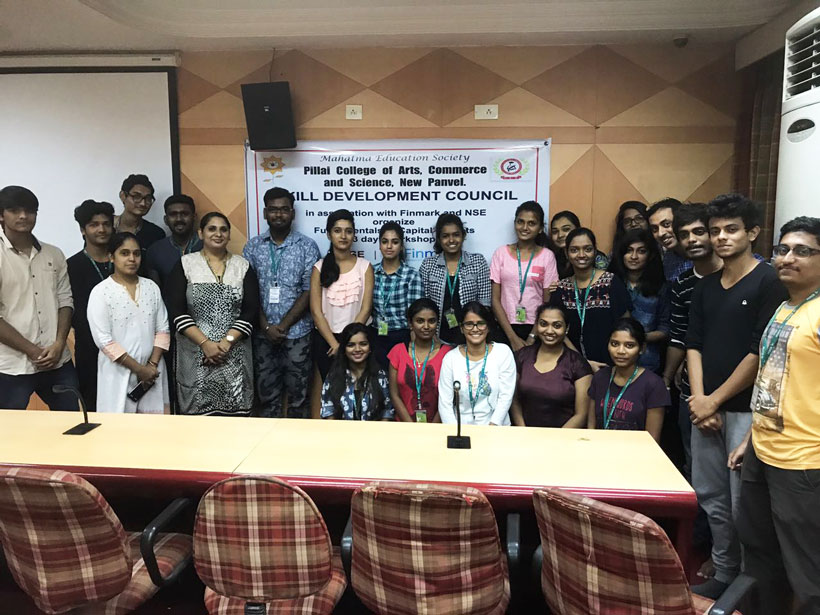 Results of "Fundamentals of Capital Market"
B.M.S. | B.Com. A&F | B.Com.F.M. | B.Com.
Pillai College of Arts, Commerce and Science, New Panvel in association with National Stock Exchange has organized a Skill Development Training Program for the students under National Skills Development Corporation of India. The program is Mutual Fund Agent Training Program – Initiated by PMKVY. Under this program 210 students are enrolled and they will be benefited by developing skills for trading in mutual fund. This will enhance their job opportunities to develop themselves as Entrepreneurs.
This program is initiated by PMKVY. Pradhan Mantri Kaushal Vikas Yojana is a unique initiative by the Government of India that aims to offer 24 lakh Indian youth meaningful, industry relevant, skill based training. Under this scheme, the trainees will be offered a financial reward and a government certification on successful completion of training and assessment, which will help them in securing a job for a better future.
This program was commenced from 22nd February, 2016 in college campus. There were 7 batches of 30 students each. Each batch was provided with a separate trainer allocated by NSE. The online exam for the same was conducted as per further notification from NSE.