Convocation Ceremony 2017-2018
Convocation Ceremony for all undergraduate and post graduate programmes for the Academic year 2017-2018 will be held on Saturday, 16th February, 2019. Venue: Auditorium (7th Floor)
Schedule for the Convocation Ceremony
Programme
Timings
In-charges for Certificate Distribution
Under graduate programmes (Science & Arts)
Reporting time: 9:30 a.m.
B.Sc. Computer Science
10:00 a.m. - 10:15 a.m.
Mrs. Deepika Sharma
B.Sc. Information Technology
10:15 a.m. - 10:30 a.m.
B.Sc. Biotechnology
10:30 a.m. - 10:45 a.m.
Mrs. Bindu Rajaguru
B.M.M.
10:45 a.m. - 11:00 a.m.
Mrs. Surekha Sudan Raja
Under graduate programmes (Commerce)
Reporting time: 11:30 a.m.
B.M.S.
12:00 noon -12:15 p.m.
Mrs. Nithya Varghese
B.Com. Accounting & Finance
12:15 p.m.– 12:30 p.m.
Mrs. Sunita Saini
B.Com. Financial Market
12:30 p.m.– 12:45 p.m.
Mrs. Jennie Prajith
B.Com.
12:45 p.m. -1:00 p.m.
Dr. Kiran Deshmukh
Post graduate programmes
Reporting time: 12:30 p.m.

M.Com.
1:00 p.m. - 1:15 p.m.
Dr. Daphne Pillai
M.Sc. Information Technology
1:15 p.m. – 1:30 p.m.
Mrs. Sujata Shahabade
M.Sc. Biotechnology
1:30 p.m. - 1:45 p.m.
Mr. Gopakumar Pillai
Convocation Ceremony 2016-2017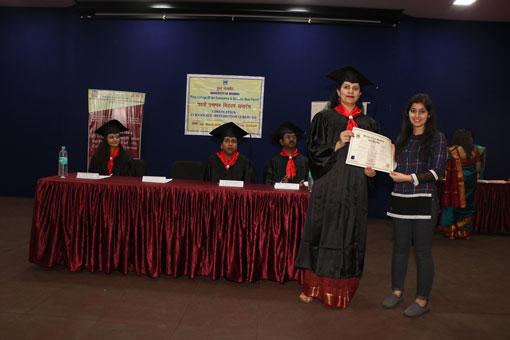 Convocation Ceremony for all undergraduate and post graduate programmes for the Academic year 2016-2017 was be held on 10th March, 2018 (Saturday) at Auditorium (7th Floor). Around 925 certificates were distributed.
Convocation Ceremony 2015-2016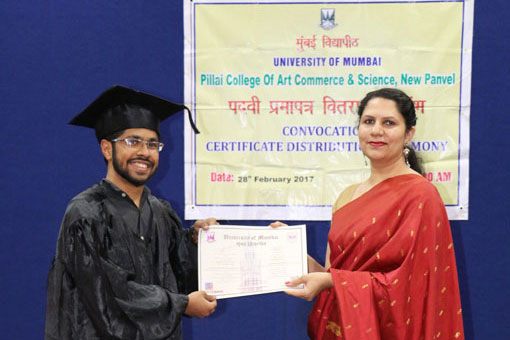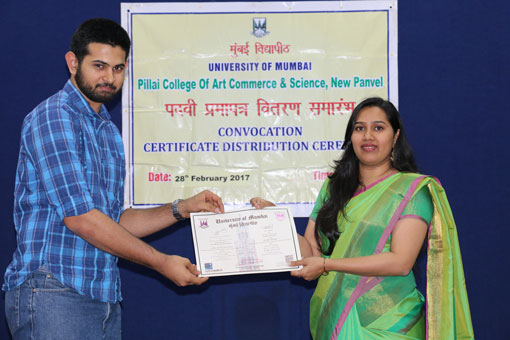 Convocation Ceremony for all Graduate and Post Graduate programmes was organised on Tuesday 28th February, 2017. Students of all courses were awarded degree certificate issued by University of Mumbai.
Convocation Ceremony 2014-2015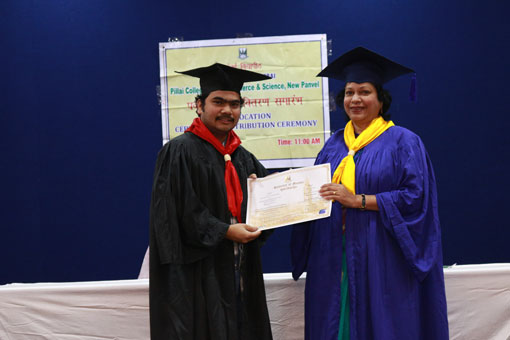 Convocation Ceremony of the Academic Year 2015 was held on 21st January, 2016 (Thursday) from 11:00 a.m. onwards at the 7th Floor Auditorium.
Convocation Ceremony 2013-2014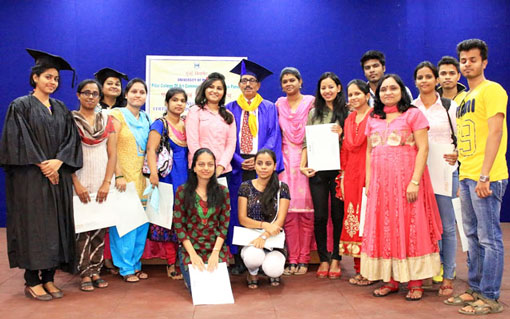 We celebrated the Convocation Certificate Distribution Ceremony on 2nd February, 2015 (Monday). Around 400 students were awarded with their Under Graduate and Post Graduate Degree.