Dr. Daphne Pillai, Principal, PCACS and Secretary, MES
Dr. Daphne Pillai, was awarded the SAVVY HONOURS CELEBRATING SUCCESS AWARD at a star studded, glittering function at the Taj, Santacruz on 24th July 2016 organised by "Savvy" magazine. Dr. Pillai, a leading educationist for over 30 years, is the Chairperson of the Management Board, Mahatma Education Society and co-founder of the Pillai Group of Institutions which runs 48 educational institutions where 35000 students study annually. She was felicitated for her contribution to education and especially for her efforts to empower the underprivileged women in society through Adult Literacy Drives and Skill Development Programmes. She firmly believes that "women are naturally empowered as they are the child bearing gender and only need the right environment within which to blossom and it is much our duty and obligation to choose the right environment for ourselves".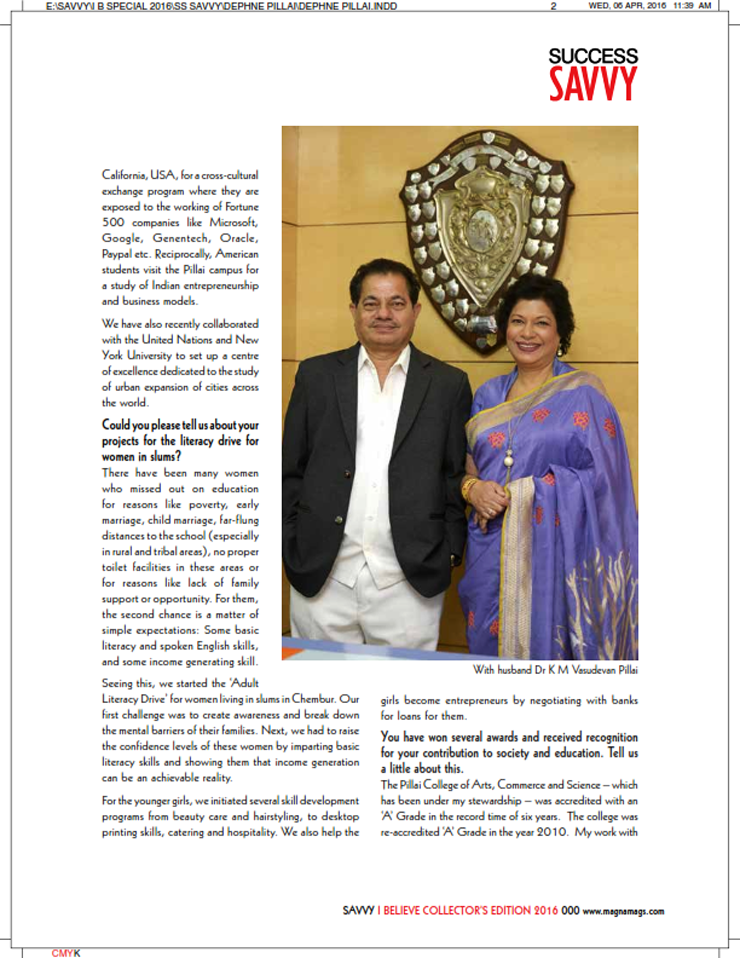 Dr. Daphne Pillai was felicitated for her Research Work in Women Studies on 14th January, 2016 by Department of Commerce, University of Mumbai on the occasion of the 13th International Conference of Commerce and Management held at the Kalina Campus.
---
Dr. Daphne Pillai was invited by the Soroptimist International to be one of their international speakers at the panel discussion held in Istanbul, Turkey on 10th July, 2015. The topic was 'Education: the Power of a Second Chance'.
---
Dr. K. M. Vasudevan Pillai and Dr. Daphne Pillai at Indian Merchant Chamber (IMC)'s India Calling Business Conference on 15th April, 2015.
---
Dr. Daphne Pillai was felicitated by the Mumbai University in an International Commerce and Management Conference by the Pro Vice-Chancellor, Honourable A. D. Sawant for her contribution to the field of Education on 31st January 2009.
---
Dr. K. M. Vasudevan Pillai and Dr. Daphne Pillai were honoured for their contribution to the field of education by being invited to join the delegation accompany Dr. Manmohan Singh, Honorable Prime Minister of India to IBSA Summit held in Rio-De-Janerio, Brazil on 13th – 14th April, 2010 and on 15th April, 2010 in Brazilia.
Dr. K. M. Vasudevan Pillai, Chairman and CEO, MES
Dr. K. M. Vasudevan Pillai's "EduNation – The Dream of India Empowered", is a manifesto of his vision for the empowerment of India through education. The Honourable Minister, Mr. Kapil Sibal, was pleased to discuss with Dr.Pillai his views on EduNation in June 2010. For more details visit www.drvasudevanpillai.com
Dr. K. M. Vasudevan Pillai, visionary Founder and CEO of Pillai Group of Institutions was felicitated on 06th December, 2007 by Dr. Vijay Khole, Vice Chancellor of University of Mumbai for expanding the scope of education and making a difference at national and international level.