Genesis 2019 was inaugurated on 9th September, 2019. Vice-Principal, Prof. Deepika Sharma along with B.M.S. Coordinator Prof. Nithya Varghese and Management Association In-Charge, Prof. Sharavathi C. inaugurated the fest by lighting the lamp.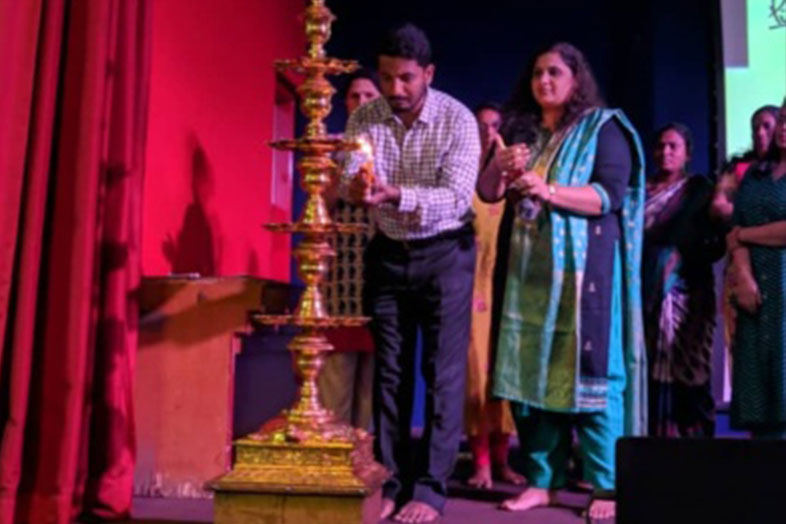 Day 1 of Genesis 2019 (16th Sept, 2019)
Day 1 of Genesis 2019 started with the event 'Walk of Corporates' where our Alumni Mr. Emmanuel Fernandes, Mr. Prithvi Prasad, Mr. Hrishikesh Nair, Ms. Swathi Nair, Ms. Prachi Vanveru gave an inspiring speech about their time in this college and the Co Founders of 'The Playlist' Band of Pillai College Mr. Manohith and Danish who with their wonderful performance along with Swathi Nair mesmerised the whole auditorium. Followed by this, events like 'The Hunt for the Ultimate Incentives', 'Wolf of Wall Street', 'Genesis Next CEO' and 'The Pitch went down as the marquee' were conducted.
Day 2 of Genesis 2019 (17th Sept, 2019)
Day 2 of Genesis 2019 was an important day for Team Genesis, Management Association conducted a One Day Seminar on "Entrepreneurship Development and Business Simulation" with Resource Person Mr. Abheejit Dash, an IITian from IIT Madras and an Alumni of NMIMS from the batch 2019 who is right now working as Senior Manager in LTT, spoke on Time Management, his journey from 12th Std. to being an IITian and then a successful professional aiming for bigger things and being goal oriented and how to prepare for competitive exams in today's environment. Mr. Justin Ancheta, a passionate brand strategist with a keen sense of Business Models is the director and Co-Founder of Bazana Foods Pvt. Ltd. and Founder of B2P Consulting LLC who spoke on marketing trends and strategies and how to grow skills relevant to ones hobbies and why the Entrepreneurial field is going to be the next big thing.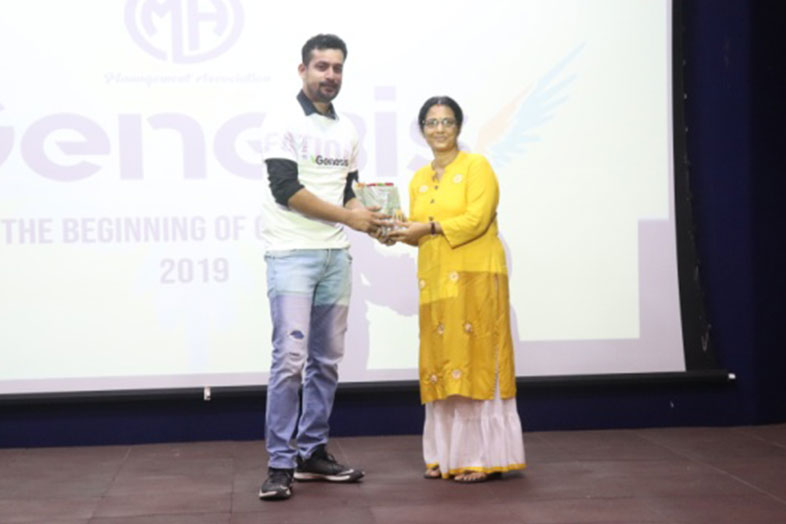 Mr. Tito Aby Idicula and Technological Enthusiast and Smart Worker, Co-Founder of Programming Hub who spoke about start-ups and how to develop a start-up. Then we had our own Ms. Gurpreet Kaur, an Alumni, an amazing writer, a Professor who has helped and inspired a lot of students, she spoke about the freedom of speech and about how we can develop into what we are meant to be. We had a BMS student among us, Mr. Rohit Patil, a second year B.M.S. student, who bombarded in the scene of YouTube as digital curator and he inspired students by speaking about his journey, about social media marketing, about how his YouTube channel which has 857K subscribers was made, it was all inspiring. The Seminar ended with a closing ceremony where the winner of 13 events conducted were felicitated with their certificates from our own Prof. Sharavathi C. Genesis 2019 was a grand success.