On Wednesday, 11th December 2019 Department of B.Sc. I.T. / C.S. had organised a National Conference on "Data Science: Transforming the Digital World" in association with Mumbai Management Academy and Research which was held in the college auditorium.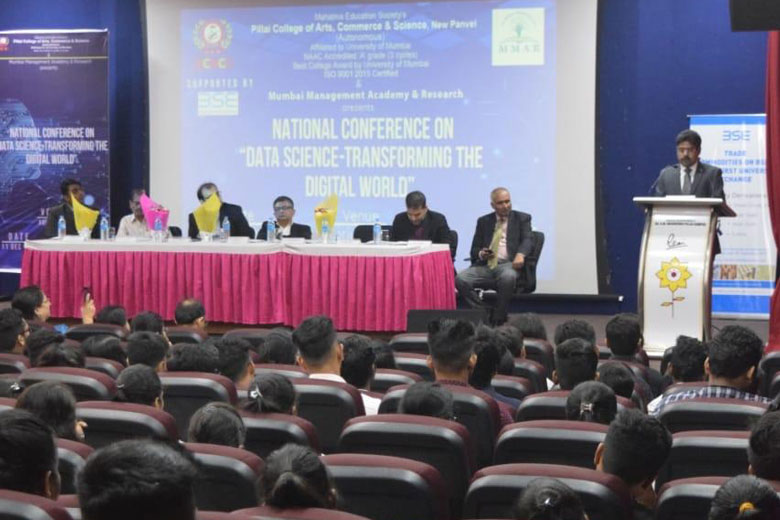 The conference was organised to make our participants aware and understand the importance of Data Science in different sectors like IT, HR, Management and Operations. This conference was conducted in the presence of dignitaries and delegates coming from different sectors of the industry. The chief guest of the day was Dr. S.K Nanda who is a retired IAS officer and former chief secretary of home government of Gujarat. The honourable guest of the conference was Shri. Sougata Ghosh who is the Deputy Director General of IMC Chamber of Commerce and Industry.
The event also saw the presence of:
Dr. Gajanan Wader (Principal PCACS),
Mrs. Deepika Sharma (Vice principal PCACS),
Prof. A. N. Kutty (Academic Advisor)
Mr. R. N. Ganguly (Founder and Director MMAR)
The conference was divided into two sessions with the first session being a seminar and making our participants understand what role is data science playing in the industry and how it is being used in the different sectors with:
Shri. Ashishkumar Chauhan (MD & CEO Bombay Stock Exchange) being the keynote speaker of the session.
The eminent speakers of the session were:
Shri. Naved Imran (Associate Program Manager, eClerx Mumbai),
Shri. Sabeeh Ashhar (Associate Director, Quantitative Research Morningstar, Mumbai),
explaining the participants how data science will play an important role and it will grow in the coming years.
The second session of the conference was a Panel Discussion on the topic:
The opportunities & challenges for employability with the panel members:
Ms. Lucky Kulkarni (Country Head-HR Jeena & Company),
Shri. Lalit Kar (Senior VP, Head HR Reliance Digital),
Ms. Divya Momaya (Co-Founder, Mentor MyBoard MMB Advisors Private Ltd.),
Dr. Sanjeev Chauhan (Director HR Pepe Jeans India Ltd.)
being the session moderator.
The conference was concluded with Vote of Thanks given by Mrs. Deepika Sharma (Vice Principal PCACS)