Research Projects
Avishkar Report 2018-19 I Round
List of the students qualified for I round held on 20th December, 2018
at Mahatma Phule ASC, Panvel
Title of the Project
Students
Class
Level / Category
Digital Roadways
Utekar Viraj Dnyandeo
Rathod Kailas Vaman
M.Sc. IT
PG/5
Salt stress management in maize plants using IAA producing and phosphate solubilizing rhizo bacteria
Naidu V Ashwin
Singh Nitesh Kumar
NairTanushree Sethumadhavan

M.Sc. Biotech
PG/4
Production of Poly-β-Hydroxybutyrate (PHB) by bacteria isolated from mangrove soil
Mr Mourya Santosh
Mr Mishra Pradeep
Ms. Omble Mansi

M.Sc. Biotech
PG/3
A Study of Sinking fund of Cooperative Housing Societies in Panvel
Mr. Rohan Yadav
Ms. Diksha Sharma

M.Com
PG/2
Simplifying the process of removal of vehicle hypothecation
Mr. Kundan Das
T.Y.B.Com(B.A.F)
UG/2
Student Project 2018-19
Student Research Award
Ms. Raveena Menon, T.Y.B.M.M. Advertising won the First Prize in an Inter-Collegiate Paper Presentation Competition for students on 'Digital India – Challenges Ahead' the topic 'Demonetisation and its impact on the common man' at organized by the Karnala Sports Academy Barns College of Arts, Science and Commerce at New Panvel on 23rd February, 2017.
Ms. Shivani Choudhary, S.Y.B.A.F. was selected to present the research paper titled "Margadarshak to Overcome Hurdles of Blind" at State level in Aavishkar Research Convention 2016-17 at Nanded in the month of January, 2017.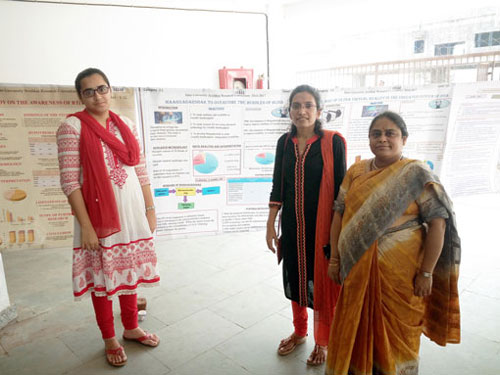 Students Participating in "Avishkar" Intercollegiate Research Convention, 2015
Name of the Student
Title
Category
Reuben Mathew
Prajakta Pokhare
Shailesh Prasad
Bluetooth Irrigation System
C5
Bare Pranik
Chaudhari Pranav
Bijle Mohammed Riyaz
Mahtre Nikita
ParkSpot
(Technologically Smart Parking)
C5
Rithvik Bhasi
Sourabh Surendra Salvi
Inductive Charging Station
C5
MollaZaheer Abbas
Kevat Ankit Mahendra Kumar
Meenu Thomas
Hackintosh
C5
On Going Research Projects by Students
Student Name
Project Guide
Title of the Project
Elora Das
Vaibhav Yewale
Akash Kanojia
Dr. K. M. Srinandinidevi
Screening of feather degrading bacteria from soil.
Sanit Mhatre
Shardool Nair
Mr. Gopakumar Pillai
Biodegradation studies of plastics using soil microorganisms.
Sanket Patil
Study on biofertilizers
Mrunmayi Bhouraskar
Ms. Uma Sadashivam
Screening of oil degrading bacteria
Suyog Chavan
Ms. Marishka D'souza
Isolation of oil degrading bacteria
Anjali Rawat
Kaustubh Patil
Anju Nair
Divya Pillai
Mr. Gopakumar Pillai
Assessment of water quality of kalundre river, Panvel.
Priyanka Thale
Ms. Bhakti Hirani
Preparation of nanoparticles from spices and testing their antibacterial activity
Pooja Manhas
Dr. Remya V.
Antioxidant activity of plants
Priyanka Patil
Ms. Jyoti Kadam
Isolation and enumeration of Azotobacter from soil
Shweta Gaikwad
Isolation and enumeration of rhizobium from leguminous plant fenugreek and mimosa
Vidya Pillai
Ms. Bindu Rajaguru
Study on chytoson
Varsha Gaikwad
Synthesis of plant based nanoparticles
Department of Biotechnology
Five students from M.Sc. Part II Biotechnology participated and selected in an Intercollegiate Research Convention "Avishkar - 2012" organized by University of Mumbai, held on 12th December, 2012 and got selected at District Level.
Details:

| Name of the Students | Project Topic | Project Guide |
| --- | --- | --- |
| Priyanka Bhattacharya | Isolation, Identification and Characterization of Novel Keratinolytic Feather Degrading Bacteria | Dr. K. M. Srinandhini Devi |
| Wahid Gaffar Kadwaikar | Impact of Ozone on Antioxidant Enzymes in Vigna Radiata L. and Vigna Mungo L. and their Biochemical Responses to Ozone | Dr. K. M. Srinandhini Devi |
| Garde Vijay Ramdas | Isolation, Identification of Microorganism from Soil and Optimization of Process Parameters for Maximum PHB Production | Meenakshi Johri |
| Mukesh Choudri | | |
| Mayur Prakash Mane | Synthetic Seed Preparation from the Explants of Stevia Rebaudiana for Agriculture Purpose | Nilambika Meti Rajiv Gandhi Institute of IT and Biotechnology, Bharti Vidyapeeth, Pune |