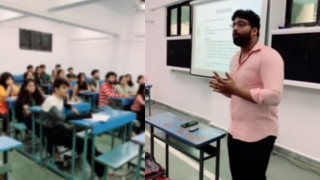 The department of B.M.M. of Pillai College of Arts, Commerce and Science held a resume making session on 16th August, 2019 in the PCACS Campus.
All the students especially from the T.Y. B.M.M. Advertising and Journalism had attended the Session after the lectures at around 10.30 a.m. which held for around an hour.
The session started with an interactive discussion on what is a resume and what all is needed for it where the students discussed among each other and also answered the question. Then the session started wherein the resource person – Mr. Abhishek explained the concept with the help of a presentation putting the fact or bringing originality in one's resume rather than just copying it from the internet. The session also helped the students to know that all that they wrote in their resume has to correct with all the facts and figures checked properly. The session helped the students to get closure towards how a good resume should be and how one can improve their resumes. A lot of questions got answered it was indeed a very helpful session for the T.Y. Students.