Sudoku Competition
Mathematics and Statistics Association conducted Sudoku Competition on 27th September, 2017.
Scilab
Department of Mathematics and Statistics is organizing a Two Days Workshop on Scilab on 26th and 27th July, 2017 for First Year B.Sc.I.T. students.
Resource person: Dr. Sachin Wani.
Venue : L-2 Computer Laboratory
Time : 2:30 p.m - 5:00 p.m.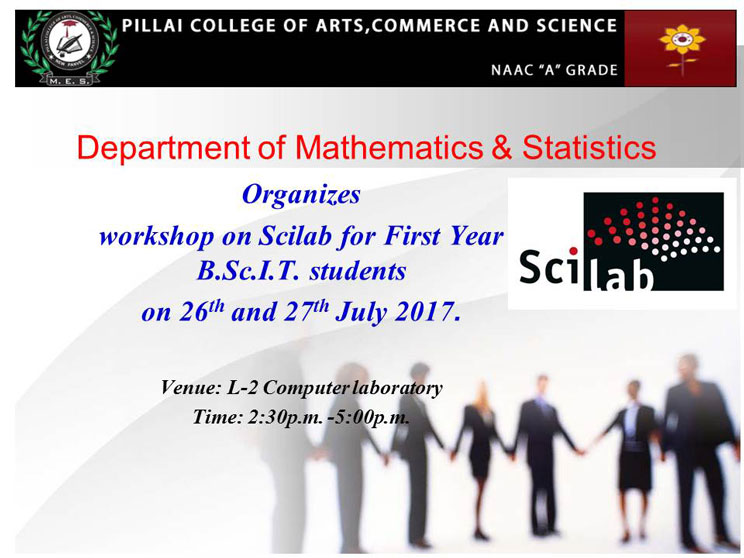 Social Event
Mathematics Association has conducted a social event on 4th July, 2017. Association members and student representatives visited and distributed clothes to under privileged people who residing in slums in New Panvel area.
SUDOKU Competition
SUDOKU Competition was conducted on 22nd January, 2014. Around 50 students participated in that event. Mr. Rahul Madhusudan of T.Y.B.M.S. and Miss. Madhushree Patil of F.Y. Computer Science shared the first prize.

Seminar on "Maths Puzzles and Logic"
A Seminar was conducted on 16th December, 2013. Mrs. Uthara Athawale gave an informative lecture on the topic "Maths Puzzles and Logic". Around 100 student participated in the seminar.

Numerical Ability Test
An event on 'Numerical Ability Test' was conducted on 24th August, 2013 and the winners are given below.

| Prize | Student Name | Class |
| --- | --- | --- |
| 1st Prize | Bose Bishal Gopinath | S.Y. B.Sc. C.S. |
| 2nd Prize | Sanket S. Wani | T.Y.B.M.S. |
| 3rd Prize | Maya Singh | F.Y.B.Sc. C.S. |
Social Event
Mathematics and Statistics Association staff and students spent a day with the children of Jeevan Jyothi School situated in the slum area of Old Panvel on 30th July, 2013. The association donated school bags, chocolates etc. to the children.

Maths Symposia
Maths Symposia was conducted on 3rd December, 2012, Monday
| Name of the Winners | Class |
| --- | --- |
| First Prize | |
| Mr. Anmol Srivastav | F.Y.B.Sc. C.S. |
| Second Prize | |
| Mr. Bishal Bose | F.Y.B.Sc. C.S. |
| Third Prize | |
| Miss. Jabeen Z. Masum | S.Y.B.Sc. I.T. |
Calculator Master
Calculator Master was conducted on 10th January, 2013, Thursday
| Name of the Winners | Class |
| --- | --- |
| First Prize | |
| Mr. Sachin S.Gupta | T.Y.B.Com. |
| Second Prize | |
| Mr. Laukik Anant Ambekar | F.Y.B.Sc. C.S. |
| Third Prize | |
| Mr. Sanket Santosh Wani | S.Y.B.M.S. |
Numerical Ability Test
"Numerical Ability Test" was conducted on 25th August, 2012. Around 40 student participated in that event and the name of the winners are as follows:
| Name of the Winners | Class |
| --- | --- |
| First Prize | |
| Mariya Zakirhusain Goderya | F.Y.B.Com. A&F |
| Second Prize | |
| Utkal Yadav | F.Y.B.Sc. C.S. |
| Third Prize | |
| Prasant Varun Shah | F.Y.B.Sc. C.S. |
| Shrest Garian | F.Y.B.Sc. C.S. |
| Bose Bishal Gopinath | F.Y.B.Sc. C.S. |
SUDOKU Competition
SUDOKU Competition was conducted on 8th August, 2012. Around 50 students participated in that event and the name of the winners are as follows:
| Name of the Winners | Class |
| --- | --- |
| First Prize | |
| Kunal K. Kole | S.Y.B.Sc.I.T. |
| Second Prize | |
| Dilraj Kaur | S.Y.B.Com. |
| Third Prize | |
| Prasant Varun Shah | F.Y.B.Sc.C.S. |
| Mariya Zakirhusain Goderya | F.Y.B.Com.A/F |
| Bose Bishal Gopinath | F.Y.B.Sc.C.S. |
| Vishnu Vijayan | S.Y.B.Com.F.M. |
| K. Shivsankari | S.Y.B.Com.F.M. |
| Amrita Kumari | F.Y.B.Sc.I.T. |
| Pratik Bhayade | F.Y.B.Sc.C.S. |