Social Awareness Cell
Social Awareness Cell was established with a view of inculcating moral values in the minds of the students and making them socially aware about the difficulties and hardships of society. These socially aware minds tend to empathize towards others regardless of race, gender, ethnicity, disability, class, or sexual identity, and hence help contribute towards building a healthy society.
Social Awareness Cell Report
Social Activities Report
International Day of Yoga
Mahatma Education Society's Pillai Group of Institutions observed International Day of Yoga in association with Soroptimist International Bombay Chembur, an organization that works for the welfare of women by conducting a yoga session for the underprivileged women who work as helpers at Dr. K. M. Vasudevan Pillai Campus on 21st June, 2015. Yoga experts, Mr. Ashish Samarth and Mrs. Deepika Samarth from Vyaana Yoga Centre conducted the 90 minute session.
The event was a grand success with around 40 women attending the session. The yoga experts spoke about the various health issues of women and the importance of making time for oneself and for exercise to remain fit and healthy. A series of yogasanas and breathing techniques was practiced during the session. The participants wholeheartedly participated in all the exercises and felt very relaxed after the session. Speaking on the occasion, Dr. Daphne Pillai, Chairperson of Mahatma Education Society and Founder President of Soroptimist International Bombay Chembur observed that "It is very fulfilling to provide such opportunities for the underprivileged in society and observing such UN declared dates like the International Day of Yoga helps to highlight the importance of being fit and healthy especially among the disadvantaged in society."
This report takes a look at social activities conducted in the academic year 2014-15.
The Department has set the following social goals:

To Help & Rejuvenate under privileged
Doing our bit to keep our "Environment" Healthy
Disseminating Awareness in the Society
Creating Exhilarating Joy - SURPRISE DONATION
A rare event of giving donations to the needy who do not give up and try doing something. Here some needy people were given cash (almost equivalent to what they earn in a day) to surprise them and bring boundless joy.
Date: 5th January, 2015
Workplace: New Panvel
Disseminating Awareness in the Society .......... CANCER AWARENESS DRIVE
Date: 5th January, 2015
Speaker Name: Mrs. Savatri Rawat from Tata Memorial Hospital, Kharghar
Venue: Conclave
Taking Care of the Environment .......... CLEANLINESS DRIVE
Cleanliness drive was conducted in and around a society in New Panvel. The drive was organized by students of the department.
Date: 5th January, 2015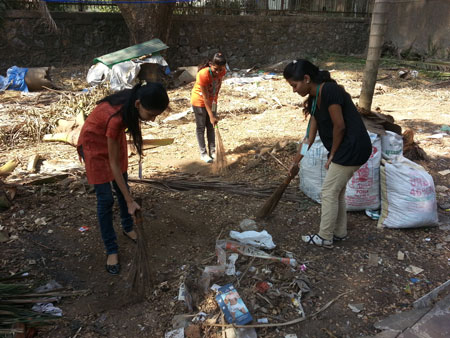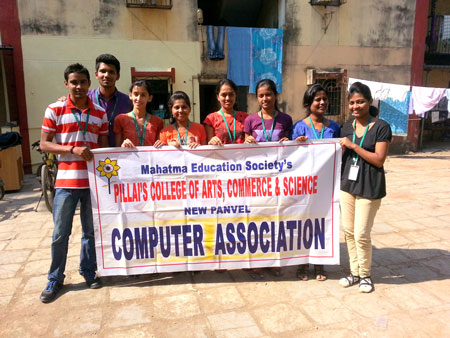 Mahatma Education Society fulfils its social responsibility through their NGOs', 'Euridite Education Mission', 'Soroptimist International' of Chembur and Navi Mumbai, a women's social organization which has a seat in the United Nations and Samannay Trust.
Our staff Mr. Vijay Vichare is associated with the following NGOs :
"SWAYAMBHU" -
President Mr. Vijay Vichare
This association works on various social issues.
Some of our students who are also a part of this organization are:


| Students Name | Class |
| --- | --- |
| Akshay Kulkarni | T.Y.B.Com. |
| Abhishek Upadhye | S.Y.B.Com.F.M. |
| Neha Kalsi | S.Y.B.Com.F.M. |
| Nikhil Kakade | T.Y.B.Com. |
| Vikrant Mayekar | T.Y.B.Com. |
| Sachin Hemant Kumar | S.Y.B.Com. |

Our Staff, Mr. Shabab Rizwi, is associated with 'SAMANNAY TRUST', which works on various issues arising in the society.