NSS Unit of PCACS, New Panvel and Laxmi Eye Institute organized a Seminar on Eye Care, Awareness on eye donation and free Eye Check Up Camp on 30th July, 2013. The institute provided the tips on how to take care of the eyes and made aware about the various infections that can come up if not dealt properly. Later on the institute conducted eye check up for the students, teaching and non – teaching staff and local residents near the campus. Around 3000 people had benefited from this camp.

A group of NSS students from Pillai College of Arts, Commerce and Science went for a tree plantation drive to Premier College of Arts, Science and Commerce in Adai Village. The NSS students planted around 50 saplings. As part of the endeavour to protest environment the staff and students of Premier College joined the NSS unit and put their effort to make this event successful on this occasion the students resolved to spread awareness among people.
"We want to ensure the saplings are not only planted but protected till their growth as trees. By plantation drives me to improve the environment in the college and inculcate sense of environment awareness among the students", said by NSS programme officer Prof. Shabab Rizvi under his guidance and concern the event was organised along with the NSS leaders, Jasmine Nannavan and Suraj Pradhan also contributed a lot by coordinating and organising the entire NSS unit. The NSS Volunteer planted the trees in presence of Principal Krishna Kumar, he also thanked the NSS volunteers for the gesture of the volunteer spirit so enthusiastically displayed.
A Blood Donation Camp was organised at Pillai College of Arts, Commerce and Science, New Panvel on 24th August, 2012 where 349 number of students volunteered to donate blood.
The college is known to organise such camps in Raigad District and garnered maximum number of donors amongst the districts Raigad, Thane, Ratnagiri and Sindhudurg. They also aspire to repeat this fest third year too. The blood banks who visited the venue were Shree Sai Blood Bank, Red Cross Blood Bank and TATA Memorial.
The camp was organised by Prof. Shabab Rizvi, NSS Programme Officer of Pillai College of Arts, Commerce and Science and deserve credit for making it a great success. The camp would never been successful without the support of NSS volunteers and the NSS leaders Jasmine Nannavan and Suraj Pradhan.
Pillai College of Arts, Commerce and Science organised a Workshop for the NSS students on leprosy in association with the group of ALERT INDIA on 3rd August, 2012.
The organisers of ALERT INDIA explained today the diagnosis and treatment of leprosy is easy and most endemic countries are striving to fully integrate leprosy services. This is especially important for those under served and marginalised communities most at risk from leprosy, often the poorest of the poor.
The NSS students come to know information campaigns about leprosy in high risk areas are crucial so that patients and their families who were historically ostracised from their communities are encouraged to come forward and receive treatment. The most effective way of preventing disabilities in leprosy as well as preventing further transmission of the disease lies in early diagnosis and treatment with MDT.
The NSS students decided to help ALERT INDIA by contributing donation so that they put some effort in the elimination of leprosy. The entire workshop was coordinated by the NSS programme officer Prof. Shabab Rizvi.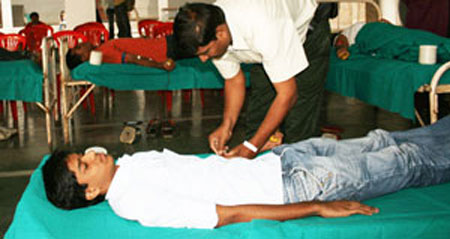 A noble gesture to help a fellow human being is blood donation, carried out when a person voluntarily agrees for blood to be drawn with the intention of donating it. Pillai College of Arts Commerce and Science, New Panvel in collaboration with Shree Sai Blood Bank, Panvel and Indian Red Cross Society (Bombay City Branch Blood Center) organized a Voluntary Blood Donation Camp on 14th September, 2011 at Dr. K. M. Vasudevan Pillai Campus, New Panvel. A total of 348 blood units have been collected from the voluntary blood donors. 107 blood units were collected by Indian Red Cross Society while Shree Sai Blood Bank collected 241 blood units. The blood donation camp saw a lot of youths participating in blood donation which is an encouraging indicator of voluntarism and awareness about blood donation. This was done under the abled guidance of Principal Dr. Daphne Pillai, N.S.S. Programme officer Prof. Shabab Rizvi, and Prof. Abida Khan. The registration and screening desks, set up by the blood banks and the N.S.S. volunteers, with a view of recipient, donor and blood testing safety measures were appreciative. The efforts of N.S.S. Leader Neha Kalsi and Abhishek Upadhye were all paid with the number of blood units collected. Last year, Pillai's N.S.S. unit bagged first position in Raigad district by obtaining 202 blood bottles, which seems that this year their blood unit numbers may be the highest in Navi Mumbai and Mumbai districts. Overall the Blood Donation camp was great success.
Tobacco is the single greatest cause of preventable death globally. The World Health Organization (WHO) estimates that tobacco caused 5.4 million deaths in 2004 and 100 million deaths over the course of the 20th century. To create awareness among the youngsters, Pillai's N.S.S. Unit organized a talk on "Substance Abuse – Side Effects of Smoking" by Dr. Manish Bhanushali at Dr. K. M. Vasudevan Pillai Campus on 12th September, 2011. Dr. Manish stressed on the long term effects of smoking such as lung cancer, emphysema, cardiovascular diseases and premature ageing. He also said that It's important to understand in the short term smoking cigarettes can be every bit as dangerous.
The following are 6 of the most dangerous short term side effects of smoking that were highlighted by him:
Increased blood pressure.
Increased heart rate.
Narrowing of the arteries.
Reduced amount of oxygen the blood can carry.
Carbon monoxide levels in the blood rise.
Creates an imbalance in the demand for oxygen by the cells.
The talk really helped the young minds to be on the right directions for a better health.
Energy efficiency and conservation recently have been receiving increased attention – and not only in discussions about national energy policy and the impact of global climate change, but in television ads for light bulbs and cars, on the labels of new refrigerators and in monthly electric bills. Energy conservation means using less energy and avoiding excessive or wasteful uses. Efficiency, on the other hand, means using less energy while getting the same results. Efficiency is therefore a subset of conservation; one way to conserve energy is to use it more efficiently. With this perspective, PCACS N.S.S. unit conducted an "Energy Conservation Drive" at Khanda colony, Panvel on 24th August, 2011. In this drive, the volunteers visited door to door for creating awareness about the importance of different forms of energy and some means and measures to save it for our future. 20 volunteers had been working endlessly for the success of the conservation drive which saw the fruits when some units of electricity saved were reflected in the electricity bills of those houses.
The importance of trees in purifying the air, as natural resources, maintaining the ecological balance, preventing soil erosion, as medicines, habitats for faunal species, providing nutrients to the soil etc. is well known. On 8th August 2011, PCACS, N.S.S. unit conducted a tree plantation programme at "New Kalamboli Education Society Primary School, at Kalamboli" with a view of conserving trees and creating awareness among the school kids. About 80 plants of different varieties were planted at the school premises. Some common examples of plants planted were roses, palm tree, ashoka, tulsi etc. The tree plantation drive was a huge success with a participation of 25 N.S.S. volunteers.