Mr. Mehlam Gladyali of Pillai (PCACS) won 4 Gold medal winning first positions at Mumbai University Aquatic Championship held at Mumbai Mafatlal Swimming pool today. He won 50m, 100m, 200m Back stroke and 400m Individual midlay events. Also booked a birth for the forthcoming Indian University Swimming Championship at Jalandhar. Congrats to Mehlam the "Golden boy" 💐💐💐💐💐💐.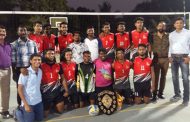 Pillai College of Arts, Commerce and Science witnessed a tough match against Thakur College in Mumbai University Volleyball Boys Tournament Finale on 13th December 2018.
PCACS Boys Volleyball Team with the Gold medal
Teams played 5 set of matches, where PCACS won gold medal by winning 3 set out of 5 against Thakur College. Despite of various nail biting matches against various colleges, it was not just a stroke of luck that Pillai's boys battled to clinch the championship and won gold medal for the college.
The Upcoming star Taekwondo players of Pillai College of Arts Commerce & Science, New Panvel won 2 Gold Medals and 2 Silver Medals at IInd Mumbai Consul General Cup-2018 National Level Taekwondo Championship held at Pune from 18th – 20th October, 2018.
The sibling Ayushi Bhakta (S.Y.) and her brother Kabir Bhakta (F.Y.) strikes Gold Medals and Ritesh Ramesh (F.Y.) won Silver Medal in the tournament.
Kabir Bhakta and Ritesh Ramesh
The Pillai College Football team defeated Thakur College 2-0 to be crowned the 2018 Mumbai University inter-college Football Champions. The match was played at the Mumbai University Grounds in Marine Lines under some sweltering heat.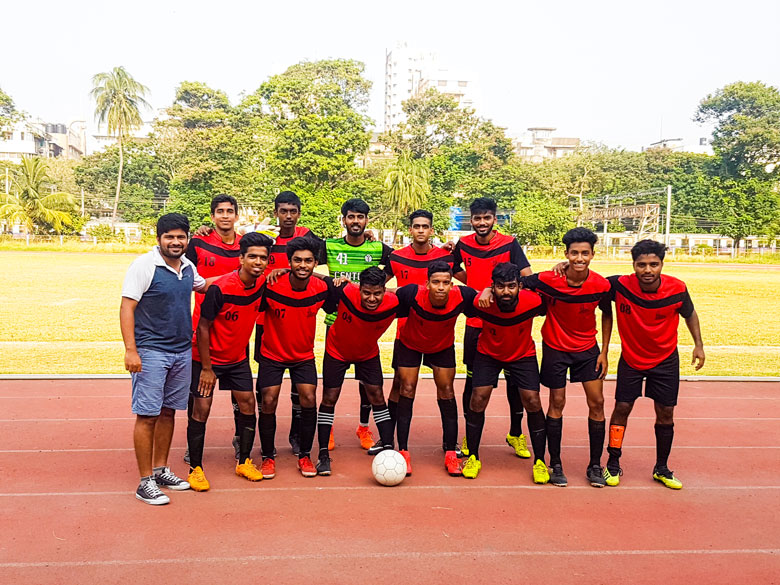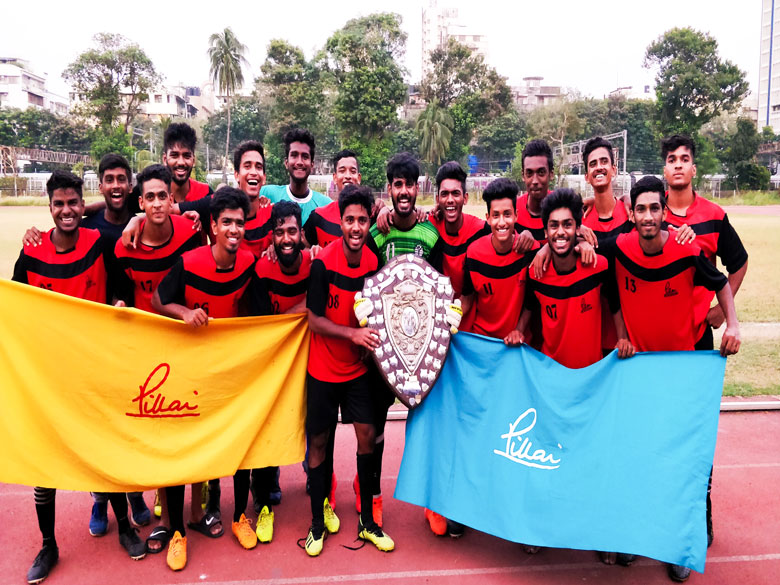 The star of the show was undoubtedly striker, Ashish Lalge who scored two amazing solo goals in the second half to make sure Pillai College won the title this time around after falling in the finals the last two years. This was Pillai College's 2nd title and 6th consecutive time playing in the finals. More than 200 colleges participated in the tournament.
The first half was an even encounter and ended with the score locked at 0-0 with both teams battling hard on the defensive end with Pillai's midfield duo of Yash Vanveru and Vinod Pandey forming a rock solid core for their team. A lot of the players looked tired and weary since they were playing their 4th match in the space of 4 days under some scorching temperatures.
With the contest evenly poised till the 60th minute, it took a moment of individual brilliance to break the deadlock. Pillai's star striker, Ashish Lalge picked up the ball on the right wing, cut back inside and unleashed a powerful left footed shot from outside the box to beat the diving keeper. It seemed as though Pillai would cruise from then on but a lapse in concentration sent a Thakur player through on goal and Pillai defender Abu Hamza had no option but to foul him. He received a red card for the foul and Pillai were down to 10 men for the final 15 minutes of the match. Thakur College were looking to pile on the pressure but Ashish gave Pillai some breathing room after he scored his second goal soon thereafter from a very similar angle to his first. Pillai College held on despite some nervy moments to win the match 2-0 in front of some boisterous support from their students who had packed the stands to witness the match.
This was Pillai College's 2nd title and 6th consecutive final appearance with captain Daniel Muthu having been part of both victorious teams. He was overjoyed with his team's performance and took the time to thank his coaches Mangesh Desai and K.T John for their motivation and support.
The Sports Director of Pillai College, Mr. Padmakshan Padmanabhan was really proud of the way the team played over the course of the last two weeks under the extreme Mumbai heat. He pointed out that this was their 2nd Team gold medal for the year as the Pillai Handball team won the Mumbai University Handball Championship as well.
Pillai College has been producing some top footballing talent in the past few years with many of their players now playing at the highest levels in Indian football. Rahul Bheke, one of India's best defenders, currently plays for ISL side Bengaluru FC. Nikhil Poojary, who was part of the Pillai squad that won the title in 2015 plays for the Indian National Football team and recently signed a contract to play for the ISL team, FC Pune City. Defender Pratik Chaudhari is a veteran ISL player and currently plays for Jamshedpur FC. There are 3 other players who currently ply their trade in the I – League, Abhishek Ambekar (Mohun Bagan), Rahul Das (Minerva Punjab) and Vinil Poojary (Churchill Brothers).
The squad that won the 2018 Mumbai University Football Title is listed below.
Daniel Muthu, Abu Hamza, Sunil Thakur, Abhijit Tawhare, Kartik Shetty, Ashish Lalge, Sylvester Fernandes, Kartik Yenurkar, Yash Vanveru, Vinod Pandey, Nitin Chaudhary, Saudagar Mate, Kaif Khan, Sanchit Singh, Saud Shaikh, Prathamesh Rokde, Nikhil Patil, Soham P.
Pillai College of Arts Commerce & Science, New Panvel, Rifle Shooting Women Team won Peep Sight Bronze Medal and Mens Open Sight Silver Medal at Mumbai University Inter Collegiate Rifle Shooting Championship held at Tolani College, Andheri on 13th – 14th October, 2018.
The Bronze winning Girls team
The Silver winning Men's team with mentors
Pillai College of Arts Commerce & Science, New Panvel won Runners–up title at Mumbai University Soft Ball Championship held at CKT College, New Panvel. In their Semi Finals they beat a formidable Praksh College, Kandivali and storm in to the final. In the finals they challenged a four time defending champion Rizvi College and lost by a margin of just 2 runs. Subham Gupta and Rushal More played excellently well for Pillai team.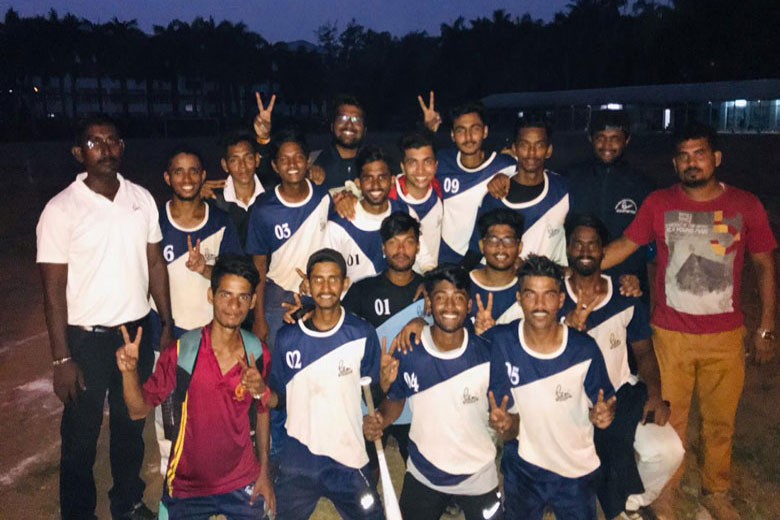 Jubilant Pillai boys after the tournament with their mentors