The National Service Scheme of Pillai College of Arts, Commerce & Science (Autonomous) made a sincere effort to conduct Online Quiz on 2nd October, 2021 using Google Forms. This was to commemorate the birth anniversary of Mahatma Gandhi. The NSS volunteers, students and staff members were encouraged to take on the quiz. Students and staff members actively participated and received e-certificates of participation on taking the quiz.
Donating blood is a habit among the Pillai family and we have many examples where all students, teaching and non-teaching fraternity donate blood every year with much fervor and zeal. This year the mega blood donation camp was organized in association with Lions Club of Millennium on 30th September, 2021. Each donor was thanked profusely with gratitude saluting their spirit and for being an exemplary figure for the others.
NSS unit of Pillai College of Arts, Commerce & Science and Soroptimist International, Mumbai chapter jointly organized Free Eye check up camp at the campus on 30th September, 2021. It took the initiative to motivate others and create awareness about the protection and importance of eyes. Teaching and non teaching staffs were all informed about the eye check-up camp and they turned up in good numbers for the camp. "Eye is the jewel of the body". It is the lamp of the body. If your eyes are healthy, your whole body will be full of light," this was the message spread across during the camp.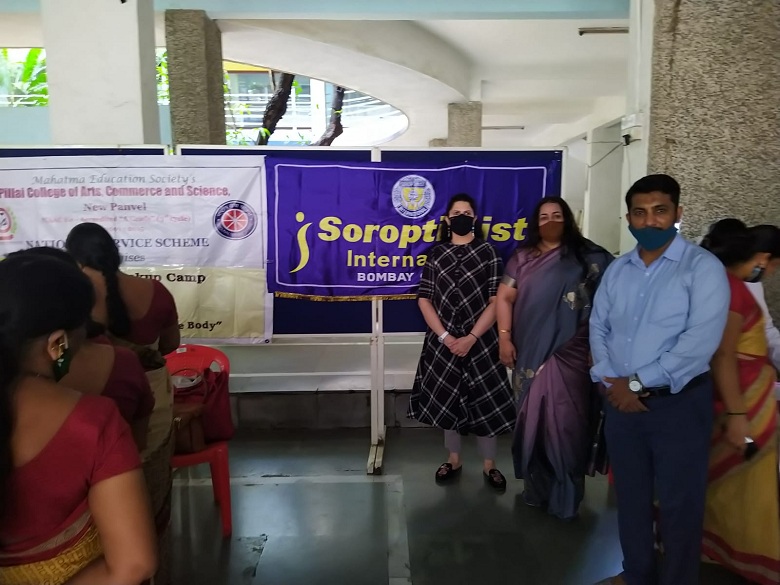 Stem Cell Transplant Registration and Awareness Drive N.S.S. Unit of PCACS in association with PCE organized Stem Cell Transplant awareness drive on 24th September, 2021 at 7:00 p.m. in Google meet platform. Awareness was given by Dr. Praveen Clement, Bone marrow transplant coordinator, Marrow Donor Registry India(MDRI). Students and the other participants were oriented about Stem Cell Donor Registration.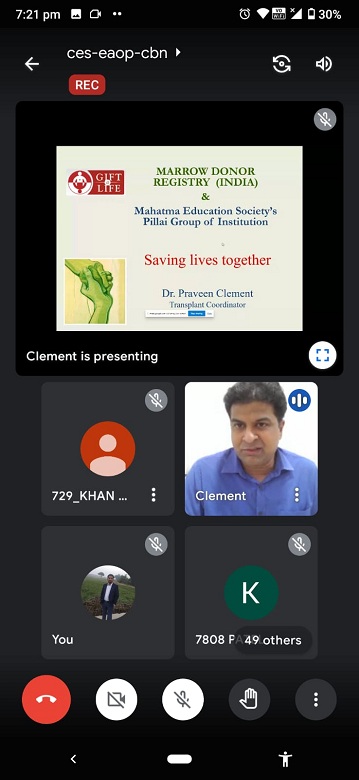 Mumbai University NSS in Association with The Art of Living for Pillai College of Arts Commerce and Science organized "Covid Care Immunity Booster for Students" on 31st August, 2021 at 5:00 p.m. via Zoom platform.
Art of living has launched these programs all across India to support the fight against the pandemic. These programs help improve people's mental and physical health.
Let Us Sing The National Anthem – 75th Year of Independence Day
Ahead of independence day, Government invited videos of people singing the national anthem.
The official YouTube page of MyGov India also shared a video titled 'Let Us Sing The National Anthem', giving step-by-step details about the government initiative.
To celebrate 75 years of independence and commemorate it as 'Azadi Ka Amrut Mahotsav', the Government of India called upon people to submit videos of them singing the national anthem. The NSS unit PCACS encouraged volunteers, students and faculty members to unite and sing the National Anthem to instill pride and unity amongst all. It also invited all to register on the official website and upload their videos. According to the website, a compilation of the uploaded videos of the National Anthem was shown live on 15th August, 2021.
The NSS unit in association with YGPT – Youth for Global Peace and Transformation conducted a session on "Combating Stress & Anxiety in Current Pandemic – A Holistic Approach" with Dr. Santosh Gupta, MD as the Resource Speaker. The session was conducted on the joyous occasion of 75th Independence Day 'Azadi Ka Amrut Mahotsav' under the 'Fit India Campaign'. It was held on 13th August, 2021 at 6:00 p.m. on Zoom platform.
The session was to enable the students to understand-
What is Stress? How does our body react when we are anxious? Understanding the root cause and how to overcome it?
NSS volunteers always take up relief operations on priority whenever a natural disaster occurs. The unit with the motive to extend help to the flood affected residents at Mahad and Chilplin collected food materials like rice, cereals, pulses, oil and many more provisions till 26th July, 2021. The collected materials were well packed by volunteers and helped for distribution. These volunteers worked tirelessly to mobilize relief materials and also worked for the smooth distribution of the collected materials in the affected areas.