B.Com.A&F Alumni Meet on 19th August, 2017
Department of B.Com. Accounting & Finance organized Alumni Meet on 19th August, 2017. 145 Alumni from different batches of 2009 to 2016 attended and made it successful with their presence. Department teachers and students planned various entertainment events such as group dance, singing, games and interaction sessions for alumni.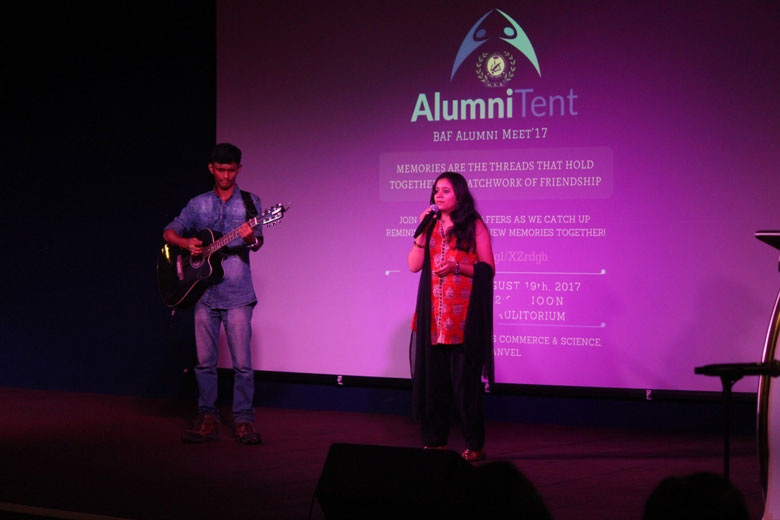 B.Com. Alumni Meet 2017 on 29th July, 2017
On 29th July, 2017 B.Com. department conducted it's Alumni meet. Approximately 140 Alumni participated for the same. Cultural performance and games were arranged for the Alumni by current students. Event was appreciated by all the alumni.
Techies Alumni Meet 2017 on 25th February, 2017
The Alumni Meet was the first event of its kind to be conducted by the Department of I.T. and C.S. Alumni from Batch 1 i.e. 2001-2004 onwards were in attendance for this one-of-a-kind reunion. Around 200 alumni attended the event.
The event included the Prize Distribution Ceremony of various Computer Association events, BITFEST events and Best Student of Department. Winners of the events were felicitated by alumni.
The Department felicitated Mr. Pushpendu Rakshit with "Alumni Achiever Award 2017" for his outstanding achievements in his field of work.
Alumni Meet 2015-16
Alumni Meet for the year 2015 – 2016 was held on 28th November, 2015 (Saturday) from 5:00 p.m. to 8:00 p.m. Around 325 students attended the function which was followed by dinner.