The Management Association in collaboration with the Incubation Cell organized a One Day Seminar on the topic "Intellectual Property Rights". Dr. Vijay Kumar Shivpuje, a reputed member of the National IPR Council, conducted the session.
Dr Vijay started the seminar by talking about what IPR actually is and explained it's importance in the real economy. The seminar was very interactive and informative. Students were highly intrigued with the way Dr Vijay taught the various aspects of the rights to protect their brain child. He also spoke about how startups could benefit the most out of IPR and how it could boost a business.
The different types of Intellectual Property Rights like Copyrights, Geographic Indications, Industrial Design, etc. He used real life examples to make the understanding of the subject at hand better. He also cited his own experiences to help explain the working of IPRs too. The basics of filing IPR, why it is essential, etc were also discussed.
Another topic that was highlighted was Patents and Patent Rights. The importance of patents was discussed along with the procedure of filing, its requirements and benefits.
The seminar concluded with an interactive Questions session where all the students asked their questions and doubts regarding IPR. Dr Vijay made sure everyone went back with a proper knowledge of IPR.
Genesis 2019 was inaugurated on 9th September, 2019. Vice-Principal, Prof. Deepika Sharma along with B.M.S. Coordinator Prof. Nithya Varghese and Management Association In-Charge, Prof. Sharavathi C. inaugurated the fest by lighting the lamp.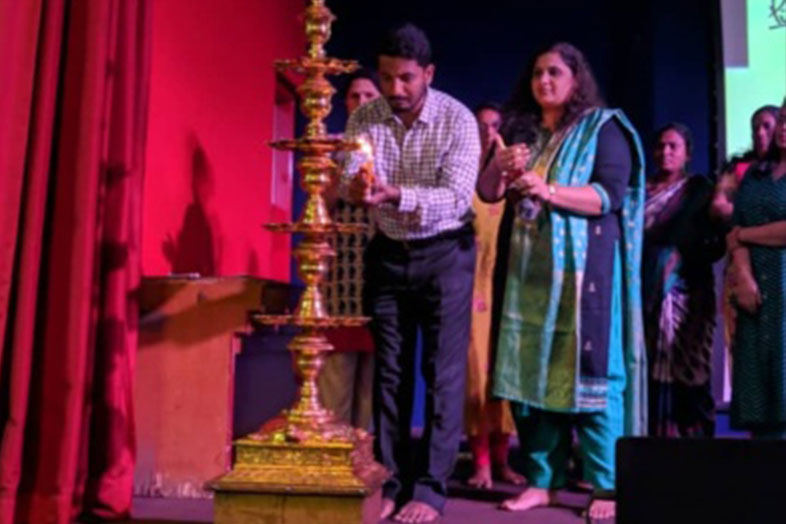 Day 1 of Genesis 2019 (16th Sept, 2019)
Day 1 of Genesis 2019 started with the event 'Walk of Corporates' where our Alumni Mr. Emmanuel Fernandes, Mr. Prithvi Prasad, Mr. Hrishikesh Nair, Ms. Swathi Nair, Ms. Prachi Vanveru gave an inspiring speech about their time in this college and the Co Founders of 'The Playlist' Band of Pillai College Mr. Manohith and Danish who with their wonderful performance along with Swathi Nair mesmerised the whole auditorium. Followed by this, events like 'The Hunt for the Ultimate Incentives', 'Wolf of Wall Street', 'Genesis Next CEO' and 'The Pitch went down as the marquee' were conducted.
Day 2 of Genesis 2019 (17th Sept, 2019)
Day 2 of Genesis 2019 was an important day for Team Genesis, Management Association conducted a One Day Seminar on "Entrepreneurship Development and Business Simulation" with Resource Person Mr. Abheejit Dash, an IITian from IIT Madras and an Alumni of NMIMS from the batch 2019 who is right now working as Senior Manager in LTT, spoke on Time Management, his journey from 12th Std. to being an IITian and then a successful professional aiming for bigger things and being goal oriented and how to prepare for competitive exams in today's environment. Mr. Justin Ancheta, a passionate brand strategist with a keen sense of Business Models is the director and Co-Founder of Bazana Foods Pvt. Ltd. and Founder of B2P Consulting LLC who spoke on marketing trends and strategies and how to grow skills relevant to ones hobbies and why the Entrepreneurial field is going to be the next big thing.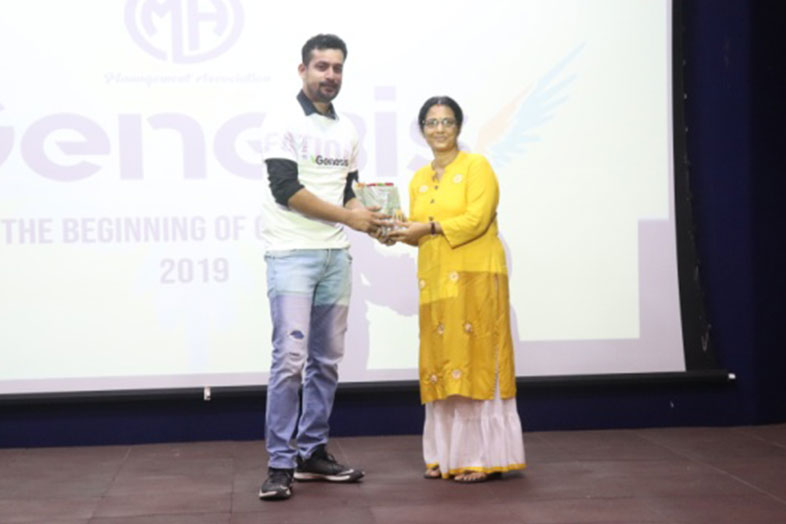 Mr. Tito Aby Idicula and Technological Enthusiast and Smart Worker, Co-Founder of Programming Hub who spoke about start-ups and how to develop a start-up. Then we had our own Ms. Gurpreet Kaur, an Alumni, an amazing writer, a Professor who has helped and inspired a lot of students, she spoke about the freedom of speech and about how we can develop into what we are meant to be. We had a BMS student among us, Mr. Rohit Patil, a second year B.M.S. student, who bombarded in the scene of YouTube as digital curator and he inspired students by speaking about his journey, about social media marketing, about how his YouTube channel which has 857K subscribers was made, it was all inspiring. The Seminar ended with a closing ceremony where the winner of 13 events conducted were felicitated with their certificates from our own Prof. Sharavathi C. Genesis 2019 was a grand success.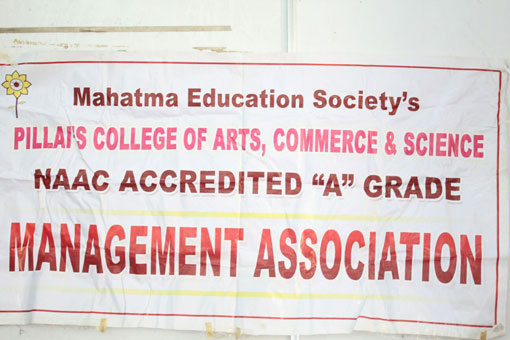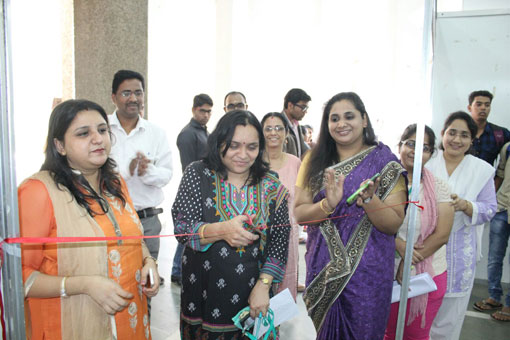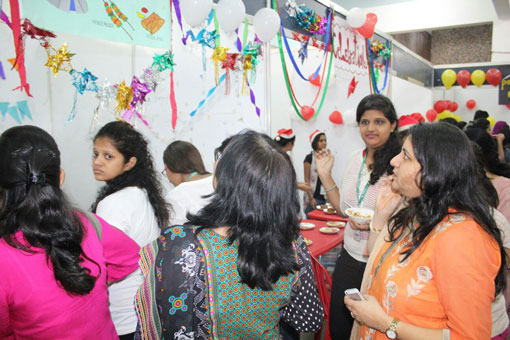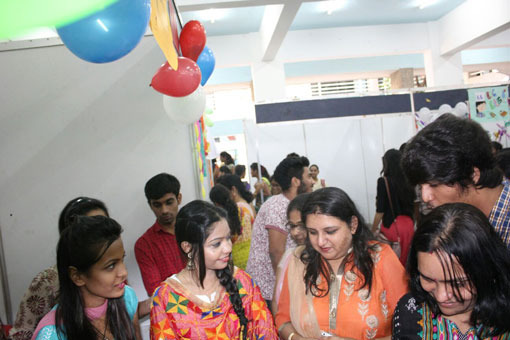 Management Association organised "FOOD DELIGHT" (food fest) on 5th December, 2015 in association with EDP. 12 Groups from all streams participated.
The objective was
To build confidence among students
Motivate them to work independently.
Give practical exposure of marketing skills to them.
Help them to become a good organizer.
Management Association conducted Mobile Photography event on 17th September, 2014 based on theme "CAMPUS CLICKS". 44 students participated and submitted their picture clicked within the college campus within the given time. The winner of the event was Dipesh Patel from S.Y. B.M.S. A and was awarded with certificate and cash price. All the participants were given certificates.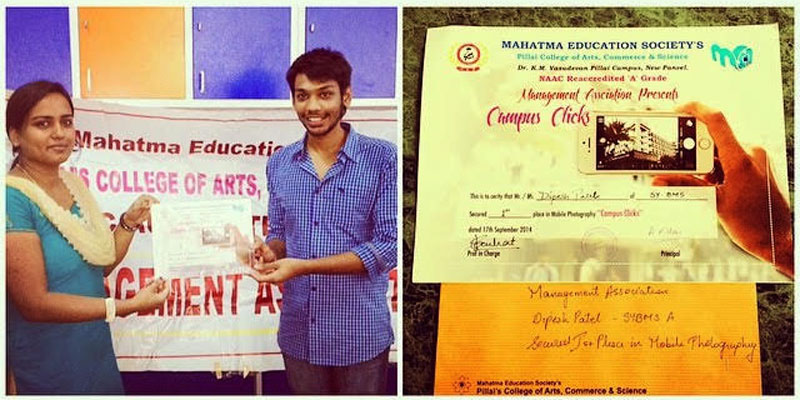 Management Association organised "I am An Author" online writing context in association with bms.co.in from 21st to 27th July, 2014. Students of all streams were invited to show their talent and have their article published in Bachelors of Management Studies Portal. 21 students participated in this contest. Ms. Sayali Mokal from T.Y. B.M.S. was the winner for this contest. She was awarded with e-certificate.
Management Association organised a seminar on "CAMPUS TO CORPORATE" on 6th February, 2014 at 11.00 am. This seminar was organised for all members of management association.