The Department of Biotechnology and Biotechnology Association of Pillai College of Arts, Commerce and Science (PCACS), New Panvel, organized a State Level Seminar on "Advances in Medical Biotechnology" on 1st March, 2018 (Thursday). One hundred and ninety six participants comprising students & faculty members from different colleges including PCACS participated in the seminar.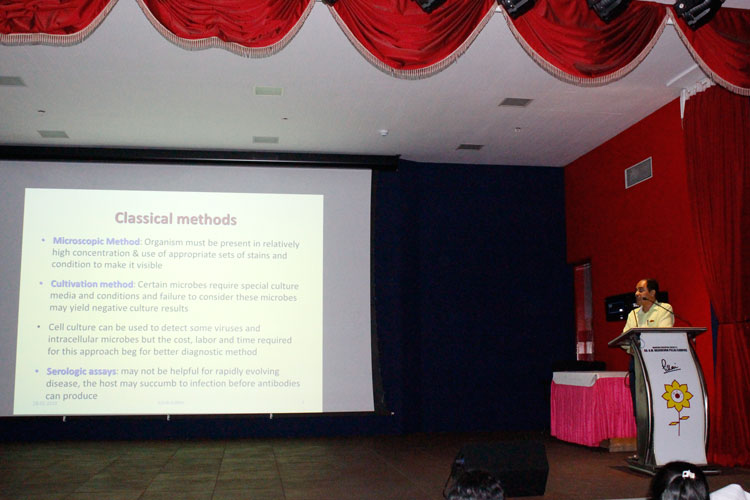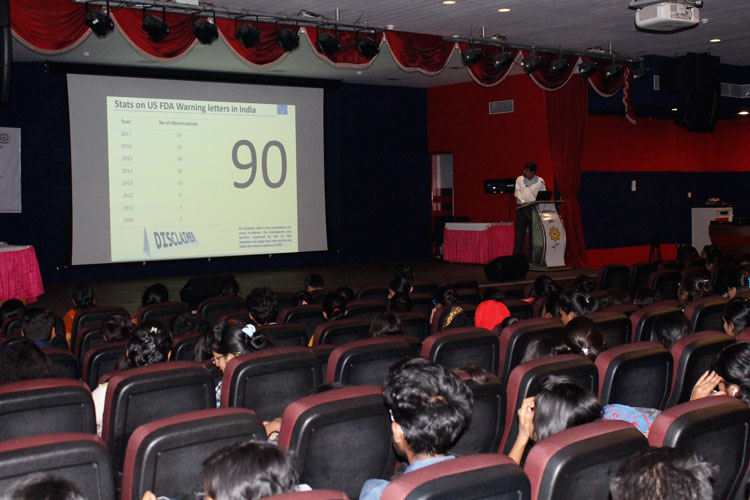 The distinguished guests formally inaugurated the event at 9.30 a.m. by lighting the lamp. Dr. Gajanan Wader, I/c Principal, PCACS welcomed the gathering. Chief Guest, Dr. Siddhivinayak S. Barve, Chairman, Board of Studies in Biotechnology, University of Mumbai, welcomed the participants and delivered an informative and wonderful speech highlighting the vital role of Biotechnology in our lives. Opening remarks were given by Prof. Gopakumar Pillai, Convener of the Seminar. Dr. Krutika Desai, Associate Professor, Department of Microbiology, Mithibai College delivered the Key note address on "New approaches in development of Antibacterials". In her converse, she explained the importance of antibacterial molecules and its mechanisms, spread of antibacterial resistance and development of better antimicrobial drugs. Her lecture was very interesting and informative. The first technical session started at 11.00 a.m. by Dr. Parag Saudagar, Director, SK Biobiz Pvt. Ltd., Nashik. He delivered the lecture on "Bacillus spores as Probiotic". He described the benefits of various probiotics and its development with emphasis on Bacillus probiotics. The second speaker of the session Dr. Divyashree S., Infection Specialist, MGM New Bombay Hospital, Vashi, gave the lecture on "Emerging and reemerging infections: Challenges and Control measures". In her talk, she discussed the ways by which infections can reemerge and also explained routes of emergence of new infections with current status worldwide. The second technical session began at 2.00 p.m. following lunch. The session commenced with the lecture of Dr. Dhanjit Kumar Das, Scientist D., Genetic Research Centre, NIRRH. He gave a lecture on "Advances in Diagnostic Technology". The lecture covered the causes of genetic disorders and techniques used in diagnosis of the same. The second speaker for the session was Dr. Aldon Fernandes, Vice President, R&D Biologicals – Equine, Bharat Serum & Vaccines Ltd. His lecture was on "Heterologous Polyclonal Antibody Therapy". He discussed about Equine biologicals manufacturing and controls, nosocomial infections and role of equine biologicals.
The Valedictory session was held at 4 p.m. where, Dr. C. K. Prashant, Assistant Professor, Department of Biotechnology, PCACS gave the concluding remarks emphasizing on the potential of Medical Biotechnology in improving quality of human health. The seminar ended with distribution of certificates by Dr. Aldon Fernandes, followed by Vote of thanks by the Convener, Prof. Gopakumar Pillai.
The students and faculty members were very interactive throughout the lectures. The seminar received a good feedback form the audience. Overall the seminar was very encouraging and was well appreciated by the guests, students and faculty members.