Events organized under 'Azadi Ka Amrit Mahotsav' to commemorate the 75th anniversary of Independence by the N.S.S. unit of Pillai College of Arts, Commerce and Science (Autonomous) New Panvel:
Tree Plantation
The N.S.S. Unit of Pillai College of Arts, Commerce & Science (Autonomous) and Unnat Bharat Abhiyan launched an extensive Plantation Programme at Valap Village, Panvel on 23rd July, 2022. In order to restore the eco-balance of the afforestation drive was taken with all seriousness. Participants were highly enthusiastic to make it a big success. The students planted saplings and fenced them and watered the plants. The programme created a great stir among the general public too.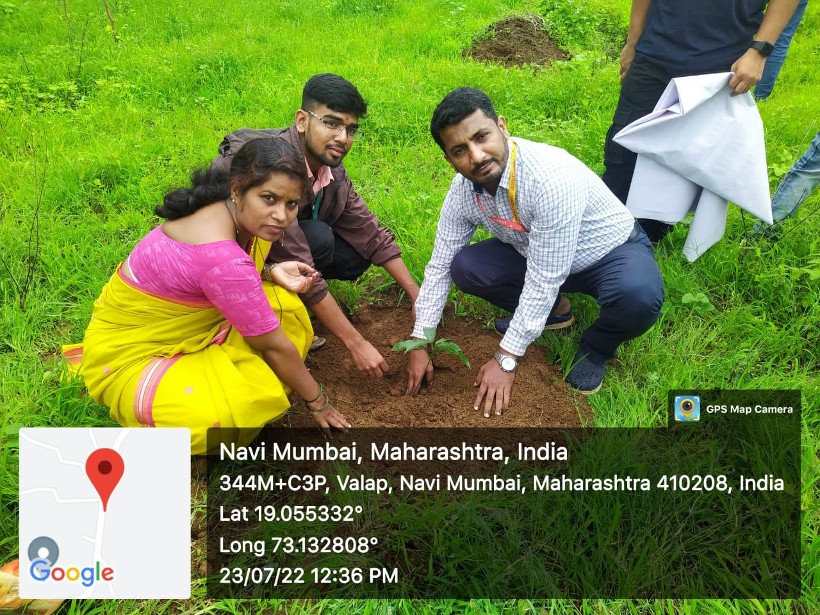 Cleanliness Drive
The N.S.S. Unit of Pillai College of Arts, Commerce & Science (Autonomous) conducted a cleanliness drive on 2nd August, 2022 at J.D. office, Panvel. The activity witnessed an enthusiastic participation from all the NSS volunteers.
Lecture on "History of Indian Independence"
A lecture on the topic "History of Indian Independence" was organized on 9th August, 2022 at 11:00 a.m. This session was headed by Prof. Prajakta Kane.
Elocution Competition
With pride "Azadi Ka Amrut Mahotsav" was organized by the N.S.S. unit of Pillai College of Arts, Commerce and Science (Autonomous). An Elocution Competition was conducted on 11th August, 2022. E-certificates were given to all the winners and participants.
Poetry Recitation Competition
The Poetry Recitation Competition was organized on 12th August, 2022. The topics for the recitation were Indian freedom struggle, Martyrdom of freedom activist, etc. The students were evaluated on the basis of poem creation, delivery and confidence. All participated with great enthusiasm. E-certificates were given to all the winners and participants.
Essay Writing and Rangoli Competition
An Essay Writing and Rangoli Competition was conducted on 13th August, 2022. The topics were on Nation First- Always First, Famous Indian Freedom Activists and so on. Number of students participated enthusiastically in the competitions. E-certificates were given to all the winners and participants.
Patriotic Singing Competition
Patriotic Singing Competition was organized on 13th August, 2022 on the occasion of Azadi ka Amrut Mahotsav. Participants were instructed to sing a patriotic song in the following languages – Marathi, Hindi and English. 23 students participated in this event. Motive of this event was to spread patriotism and feeling of unity in diversity among everyone.
Independence Day Celebration
The 75th Independence Day was celebrated in all its solemnity and grandeur at Dr. Vasudevan Pillai Campus. The event commenced with flag hoisting followed by National Anthem at 8.30 a.m. which spread zeal amongst all. The Chief Guest of the day was Commander Rajesh R. Pillai, Indian Navy, Headquarters Western Naval Command, Mumbai. The respected dignitaries shared their valuable thoughts on the occasion and motivated the attendees. The Student Council and NSS volunteers put up a great show with the cultural programme.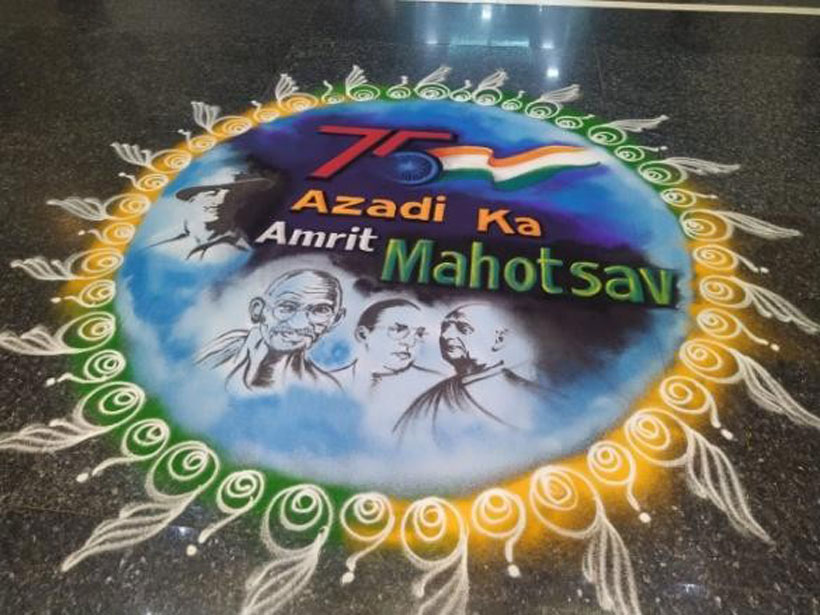 Screening of Patriotic Motives
NSS unit of PCACS Celebrated Aazadi ka Amrut Mohotsav by conducting various Activities. on 27th August 2022, NSS Unit Conducted an Activity where students of F.Y.B.Com. (Accounting and Finance) were shown Patriotic Short Movies online on the Media platform YouTube. A Total of 72 Students attended the session and watched Patriotic Short Movies and Advertisements. Students were asked what message does the Movie / Advertisement give to which they answered well.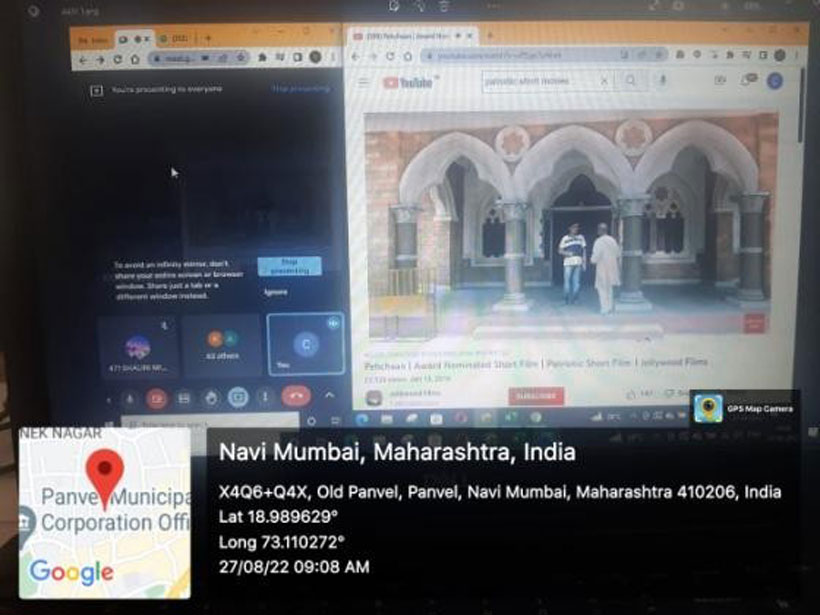 Blood Donation Camp
National Service Scheme of Pillai College of Arts, Commerce and Science in association with Lions Club of Millennium organized a Blood donation camp in the college premises on 25th August, 2022. It began at around 9 a.m. and continued up to 4:30 p.m., with a steady stream of donors throughout. A blood bank team comprising doctors, nurses and technicians helped the unit to organize the camp. Principal, staff and students displayed true humanitarian spirit, a hallmark of every Pillaite member by participating in the camp enthusiastically. The pride of the students for their teachers and the other fellow students was reflected on their faces while distributing certificates and refreshments to the donors. They thanked each donor profusely with gratitude saluting their spirit and for being an exemplary figure for the others.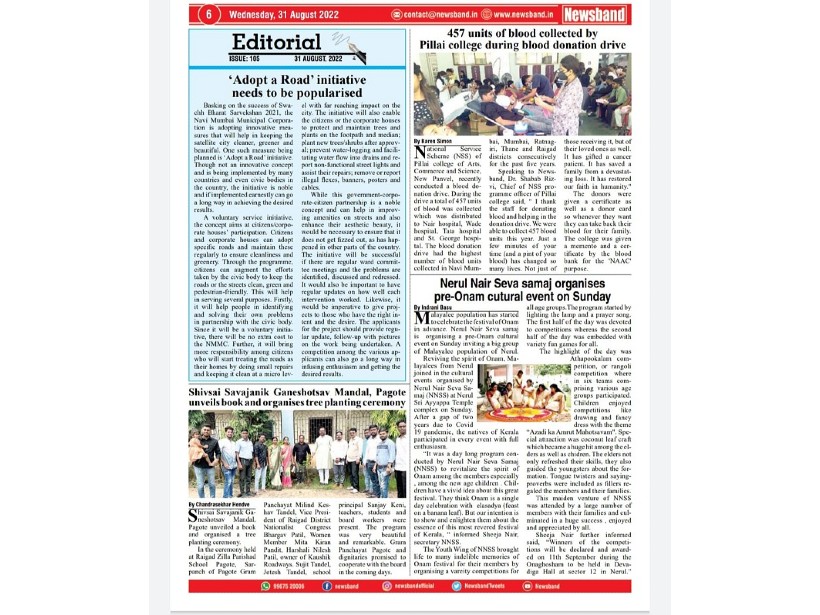 At the end of the day over 457 bottles of blood were collected. Throughout the day, there were smiles and laughter all around – a true embodiment of what we believe in – selfless service with a smile.
World Environment Day
Essay Writing and Slogan writing Competition were organized on the occasion of World Environment Day on 5th June, 2022 by the N.S.S. unit. In both events, many students from different departments got their presentations registered. Winners and the participants were felicitated with e-certificates. The relentless efforts of participants were applauded and they were advised to nurture the nature and save the environment so that they could have a better future.
Shivswarajya Day Celebration
Shivswarajya Day was celebrated and observed on 6th June, 2022 by N.S.S. unit, Pillai College of Arts, Commerce and Science(Autonomous). On this occasion, an online quiz and poster making competition based on Chhatrapati Shivaji Maharaj was organized. Total 89 students participated in the online quiz and 18 students participated in the poster making competition.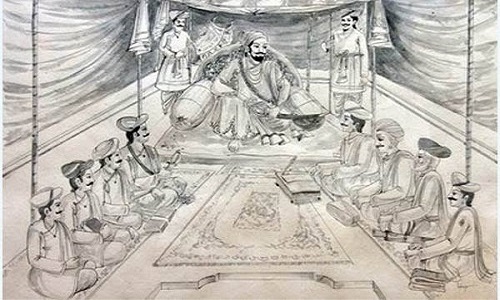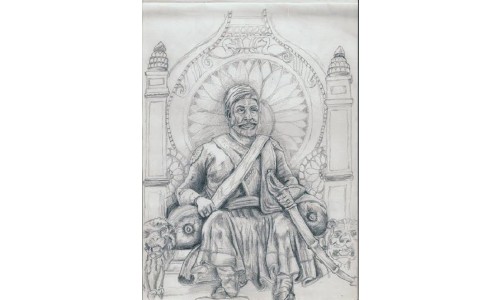 International Yoga Day
As part of worldwide observation of International Yoga Day, National Service Scheme of Pillai College of Arts, Commerce & Science, New Panvel in association with Patanjali Yoga Samiti, Panvel also observed this day on 21st June, 2022 in the campus. A yoga training session from 8:00 a.m. to 10:00 a.m. was organized in which students, teaching and non-teaching staff took part enthusiastically and practiced various 'asanas' of Yoga and pranayama. A Yoga practitioner and his team were invited to demonstrate various Yoga postures and asanas. It was a healthy session and everybody celebrated the day with much fervour.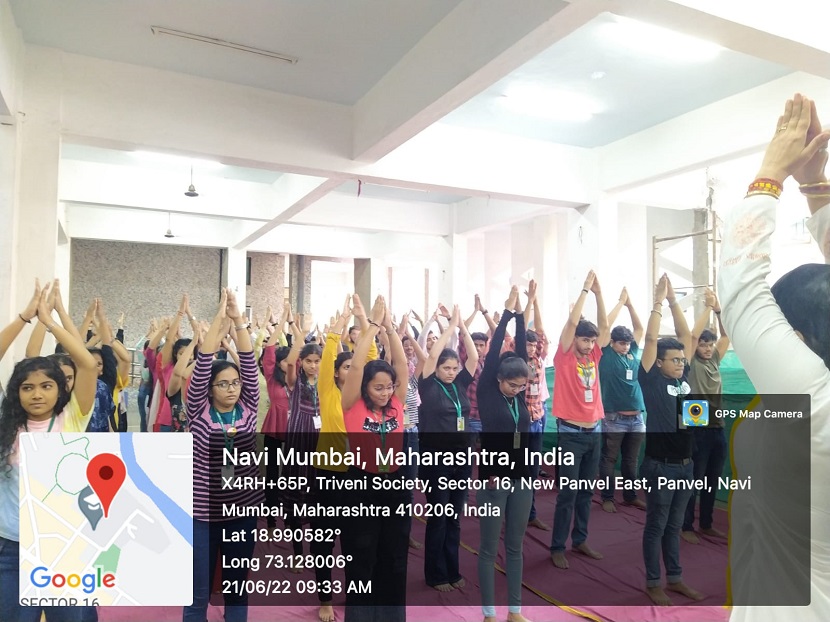 Stem Cell Transplant Awareness & Registration
N.S.S. unit in association with the Marrow Donor Registry India(MDRI) organized Stem Cell donors camp in the College on 29th and 30th June, 2022. Stem donor registrations were done which included teaching, non-teaching and students from Pillai College Arts, Commerce and Science(Autonomous). Students were also oriented about Stem Cell Donor Registration one day prior to the camp.
Felicitation for Blood Donation
The NSS unit of Pillai College of Arts, Commerce & Science(Autonomous) was felicitated by the ACTREC Tata Hospital celebrating the philanthropic feature of the unit. It was also awarded for the outstanding contribution to promote voluntary blood donation from Department of Transfusion Medicine Tata Hospital.
Indian Swachhata League
The Indian Swachhata League is India's first inter-city competition led by youth towards building Garbage Free Cities. More than 1,800 cities from Leh to Kanniyakumari participating by setting up a team for their city, and planning activities that will be undertaken on Seva Diwas, the 17th September. Citizens across India were invited to search for their cities on MyGov and register to join their city teams in the Swachhata activities that have been planned.
NSS volunteers and many other students from different streams registered for the same and participated in the rally in huge numbers on 17th September, 2022. This was organized by NSS unit of Pillai college of Arts commerce and science (Autonomous) New Panvel in association with Panvel Municipal corporation to fight for garbage free cities.
Discovering Yourself
The N.S.S. unit in association with Youth for Global Peace & Transformation conducted a session on "Discovering Yourself Through Your Strengths & Weaknesses on 13th October, 2022. The session was headed by Ms. Maitreyi Noor and she emphasized on Why is it important to know your strengths and weaknesses? When you spend time reflecting on your strengths and weaknesses, you get to know your true self better. This helps you make decisions that better reflect your true self and make you happy. NSS volunteers and students from different participated and were beneffited.