Computer Association volunteered and supported economically, a Social Event "Balkalakaar" organized by AIESEC on 20th December, 2015 at Dr. Pillai Global Academy, Panvel. The event looked into the simple pleasures of childhood that many underprivileged children missed out because of the poverty and hunger that engulfed their lives. Here around 400 underprivileged kids came together for a day full of fun, learning and happiness. It was an amazing experience for the volunteers to witness the innocent smiles.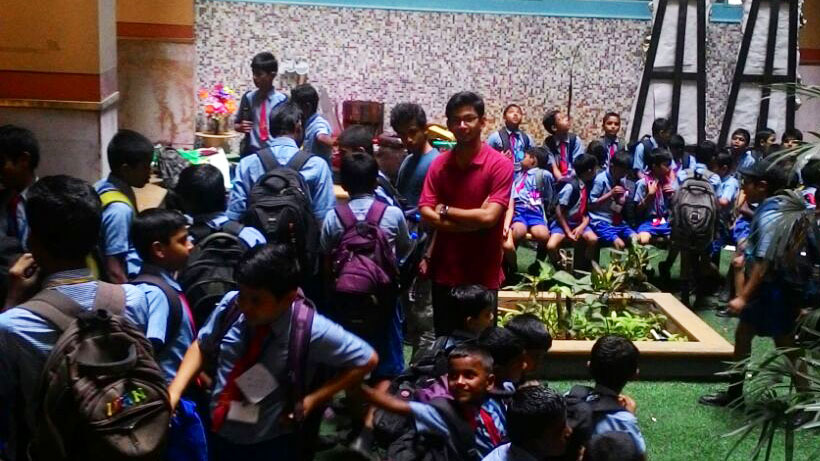 AIESEC in Navi Mumbai organized "Balakalakaar", an event that looked into the simple pleasures of childhood that many underprivileged children missed out because of the poverty and hunger that engulfed their lives. The Computer Association feels proud that it was also a part of the noble cause. The main event was on 20th December, held at Dr. Pillai Global Academy, Panvel, where around 400 underprivileged kids came together fora day full of fun, learning and happiness. Along with financially contributing for the event, the members of CA actively volunteered, teaching and playing with the kids. It was an amazing experience for the volunteers to witness the innocent smiles.
The Department of Biotechnology and Biotechnology Association of Pillai College of Arts, Commerce and Science, New Panvel had organized a visit to Jeevan Jyothi Charitable Trust, Old Panvel on 18th December 2015, Friday. The initiative to visit the organization was taken by the Professors and students of the Department. They had an interactive session with the children regarding the importance of basic cleanliness and personal hygiene in our daily life.
Students of our college also had conducted entertaining session where the children sang and shook the leg on few songs; following which, blankets, books and stationary items. Refreshments in the form of snacks were distributed. Overall this event was highly entertaining and enlightening for the kids at Jeevan Jyothi Charitable Trust that have sensitized our students with regards to their social responsibilities.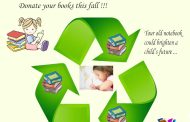 Reuse and Recycle – A social initiative: Arts and Media Association by Department of Mass Media has taken the initiative of "Reuse and Recycle Books" as a part of our social responsibility. This initiative will collect textbooks and notebooks donated by the students as well as students. The textbooks would be given to PCACS students who need them and the unused pages of the notebooks would be recycled and gifted to the under-privileged kids. The dates for donating books are from 15th to 21st December, 2015 at Classroom G-303.
Department of Mass Media along with its departmental association AMA (Arts and Media Association) conducted 'Recycle and Reuse' Campaign as a part of its social activity.
The activity undertaken by the students of S.Y.B.M.M. included designing posters on the importance of recycling. The students displayed the posters all over the campus. They also spread awareness about the importance of recycling through classroom interactions.
The activity also included a call for donation of old textbooks and notebooks. The textbooks thus collected were donated to the college library and the empty pages from the notebooks were distributed to children in an orphanage named 'Balagram' in Khanda Colony.
Mahatma Education Society's Pillai Group of Institutions observed International Day of Yoga in association with Soroptimist International Bombay Chembur, an organization that works for the welfare of women by conducting a yoga session for the underprivileged women who work as helpers at Dr. K. M. Vasudevan Pillai Campus on 21st June, 2015. Yoga experts, Mr. Ashish Samarth and Mrs. Deepika Samarth from Vyaana Yoga Centre conducted the 90 minute session.
The event was a grand success with around 40 women attending the session. The yoga experts spoke about the various health issues of women and the importance of making time for oneself and for exercise to remain fit and healthy. A series of yogasanas and breathing techniques was practiced during the session. The participants wholeheartedly participated in all the exercises and felt very relaxed after the session. Speaking on the occasion, Dr. Daphne Pillai, Chairperson of Mahatma Education Society and Founder President of Soroptimist International Bombay Chembur observed that "It is very fulfilling to provide such opportunities for the underprivileged in society and observing such UN declared dates like the International Day of Yoga helps to highlight the importance of being fit and healthy especially among the disadvantaged in society."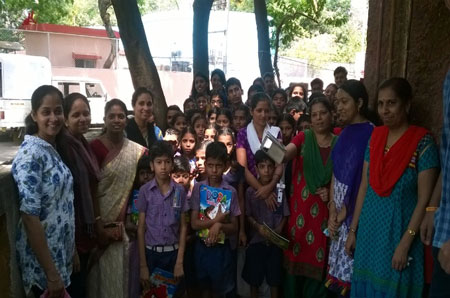 We at Pillai's believe in inculcating in our students a sense of community and social responsibility. The Financial Market department initiated Community Programme which was spearheaded by Students of First Year, Second Year and Third Year students jointly. The Community service programme was organized on 12th April, 2015 at Rotary school for Deaf and Dumb students – New Panvel. The Students gifted them with stationery items like pencils, crayon colors, drawing books and also distributed chocolates with the left over funds of farewell collections collected for T.Y. B.Com.F.M. students farewell.
Teachers and students of B.Com. Accounting and Finance department visited Vanavasi Kalyan Ashram, Chinchavali, Nere, New Panvel on 3rd March 2015, Tuesday. Vanavasi Kalyan Ashram is a social institution of 30 orphanage children. It takes care of their studies, basic necessities, personal and social development. Mr. Dilip Barela is care taker of this ashram and children. We donated Rs. 7,300 (Seven Thousand Three Hundred) towards buying of printer for their official use for upliftment of children.
Department Members
Mr. Aditya Joshi
Ms. Abida Khan


B.Com. Account and Finance students with their teachers visited Zilla Parishad School, Nandgaon Katkarwadi and donated school bags and weighing machine.
A social activity was conducted at Girija Ghar, Kharghar. The students had purchased groceries, oil, spices, books and games for the orphans which was contributed by the students themselves. The students played games with them.
It was very pleasant to see them liking the things provided by the students. We look forward to organize such events in future. The event was conducted on 15th January, 2015.
It is a small orphanage that consists of around 20 kids of age around 7 to 14 years. Games, gifts, eatable were provided from the donation collected from students.