Dr. Daphne Pillai, Co-Founder of the Pillai Group of Institutions and Chairperson, Management Board, Mahatma Education Society.
"In this fiercely competitive world, success has several dimensions far widespread than the vortex of academia, spreading its tentacles into diverse fields on which one has to be adept in. Our objective at Pillai's has always been to create a climate conductive to 'endeavour' that students can unleash their untapped potential. At Pillai's, we will provide you the right environment which will enable you to fulfill all your aspirations and ambitions."
Very often one is not even aware of one's capabilities and we at Pillai's believe that even if we succeed in making the student scratch the tip of the iceberg, we have set the ball rolling. Our chosen path has been appropriately vindicated by the plethora of prizes won by our students in diverse fields.
The years gone by has truly been momentous in several dimensions with Pillai's having carved a niche for itself amongst the top-line institutions of learning affiliated to the Mumbai University. This bears testimony to the unstinted efforts of my dedicated team of the teachers who have succeeding in igniting the passion in student to excel. With the pool of student talent at the threshold of unleashing their potential, we can truly set our sights high for the coming years, and surpass our achievement never losing sight of our cherished goal to achieve excellence in all our endeavors.
Our endeavour is to take all the efforts to make sure that you graduate from Pillai's to become a successful professional in corporate world, excellent researcher, dedicated teacher or an entrepreneur with vision of creating a business empire.
In her role as the co-founder in the Pillai Group expansion program, Dr. Daphne Pillai sees herself as both, a custodian of old-world values and an initiator of new-generation change. She is responsible for many collaborative programs with reputed universities in US and other countries.
Dr. Daphne Pillai set up the Research Forum in several campuses of the Pillai Group and is actively involved in implementing curriculum and policy changes, and in ushering in community initiatives for meaningful social change.
Dr. Daphne Pillai, CO-Founder of Pillai Group of Institutions was the recipient of the ASSOCHAM WOMAN ACHIEVER OF THE YEAR AWARD at the 'Women's Leadership and Empowerment Summit' held in New Delhi on 13th November, 2019. The award was in recognition of her tremendous contribution to women's empowerment through social entrepreneurship initiatives. The award ceremony was held in association with the Ministry of Women and Child Development, Government of India.
The award was conferred on her by the Hon. Union Minister of Women and Child Development, Smt. Smriti Zubin Irani.
Reference Link: Winner of ASSOCHAM Women Achiever of the Year Award – 2019 | ET in Campus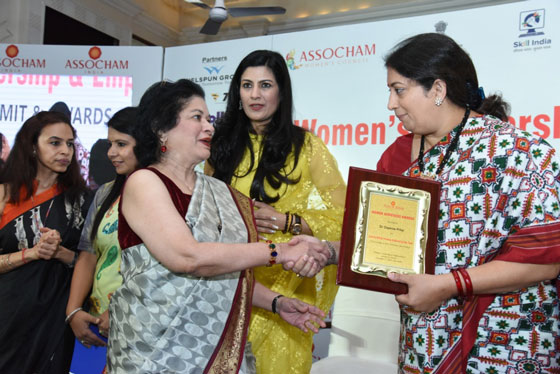 Dr. Daphne Pillai, was awarded the SAVVY HONOURS CELEBRATING SUCCESS AWARD at a star studded, glittering function at the Taj, Santacruz on 24th July, 2016 organised by "Savvy" magazine.
Dr. Pillai, a leading educationist for over 30 years, is the Chairperson of the Management Board, Mahatma Education Society and co-founder of the Pillai Group of Institutions which runs 48 educational institutions where 35000 students study annually. She was felicitated for her contribution to education and especially for her efforts to empower the underprivileged women in society through Adult Literacy Drives and Skill Development Programmes. She firmly believes that "women are naturally empowered as they are the child bearing gender and only need the right environment within which to blossom and it is much our duty and obligation to choose the right environment for ourselves".
She received a trophy and a citation honouring her for her well deserved contribution to society. Dr. Daphne Pillai is also the founder of the Soroptimist International Bombay Chembur, a women's international organization which works for the welfare of women and works towards "Educating, Empowering and Enabling" women to build better lives for themselves.
References:
Feature on Dr. Daphne Pillai, Co-Founder, Pillai Group of Institutions and Chairperson, Management Board, MES in "SAVVY" Magazine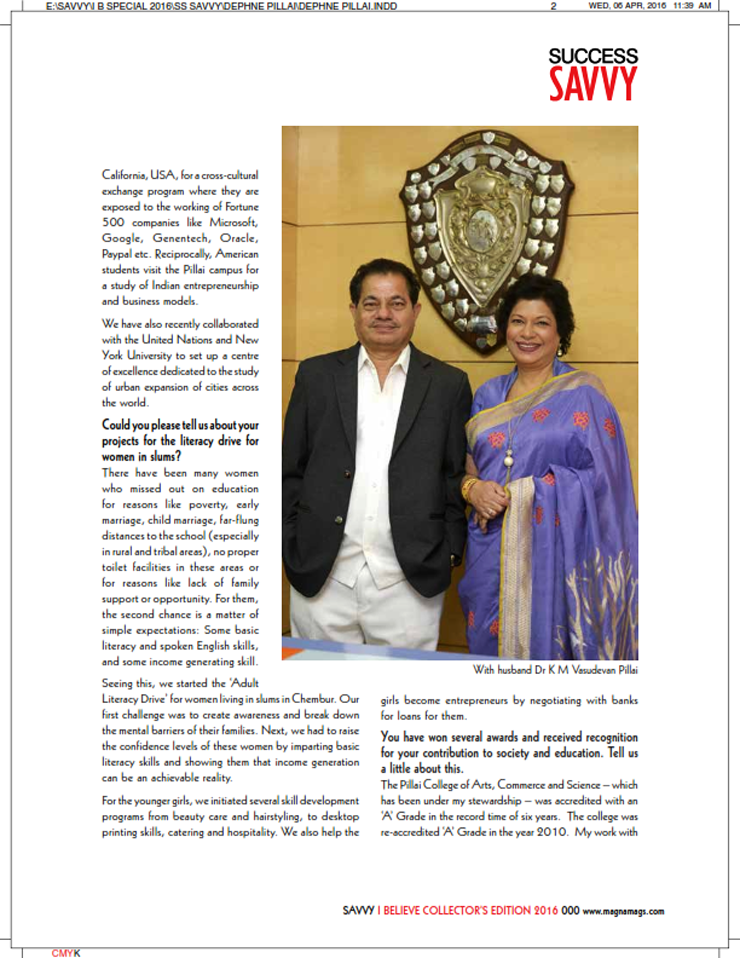 'International Conference on Social Sciences and Humanities' at University of Lisbon, Portugal on 22nd May, 2017
Research Paper Published:
Dr. Daphne Pillai & Dr. Celina Joy
, "WOMEN'S EDUCATION IN INDIA – THE POWER OF A SECOND CHANCE",
PEOPLE: International Journal of Social Sciences. Vol 3, Issue 2 (2017) pp. 195-205
https://dx.doi.org
,
www.grdspublishing.org
,
[.pdf]
Dr. Daphne Pillai was felicitated for her Research Work in Women Studies on 14th January, 2016 by Department of Commerce, University of Mumbai on the occasion of the 13th International Conference of Commerce and Management held at the Kalina Campus.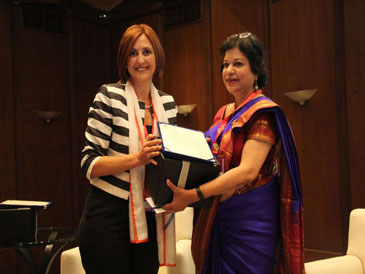 Dr. Daphne Pillai was invited by the Soroptimist International to be one of their five international speakers at the panel discussion held in Istanbul, Turkey on 10th July, 2015. The topic was 'Education: the Power of a Second Chance'.
Dr. K. M. Vasudevan Pillai and Dr. Daphne Pillai at Indian Merchant Chamber (IMC)'s India Calling Business Conference on 15th April, 2015.
Dr. Daphne Pillai Nurtures Young Minds.
read more…

Dr. Daphne Pillai was awarded the SI – Achiever Award by NASI in December 2012.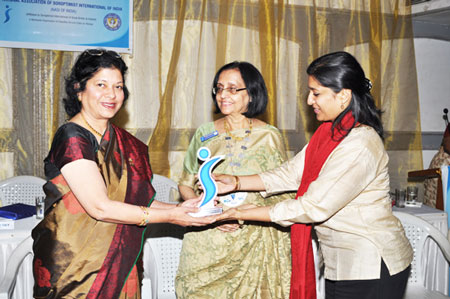 Dr. Daphne Pillai is well travelled and has a deep understanding of the socio-economic issues affecting women and girls. She is the Founder President of Soroptimist International Bombay Chembur and has initiated and implemented several projects for the upliftment of women including a literacy drive for women in slums.
Dr. Daphne Pillai was felicitated by the University of Mumbai in an International Commerce and Management Conference on Management Strategic of Trade, Commerce and Industries in India, South Korea, China and U.S.A., Global Perspectives, on 30th January, 2009 by the Pro. Vice-Chancellor, Honourable A. D. Sawant, for her valuable contribution in the field of education, initiating collaborate programmes for linking global learning virtues to local design, nurturing and enriching education in an innovative manner with a humane touch and taking it to the next level. She spearheads the student exchange programme with St. Mary's College Moraga, California, U.S.A.